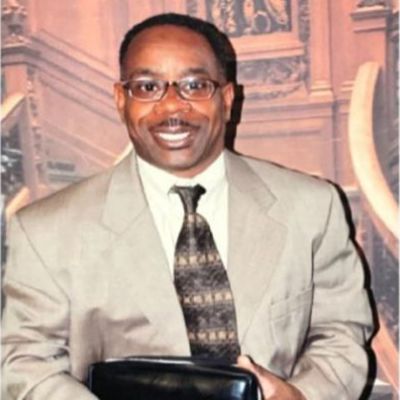 Woodrow
"Buster"
Johnson Jr.
Help us celebrate Woodrow! Please share your stories and photos, and invite others who remember Woodrow.
Graveside service for Elder Woodrow "Buster" Johnson Jr, 55 of Decatur Alabama will be noon Saturday, April 3, 2021 at Calvary Memorial Gardens with Dr. G. Lynne Herring officiating. Public viewing will be Friday from 1:00 pm to 6:00 pm at Reynolds Funeral Home.

Elder Johnson was born February, 12, 1966 in Decatur, Alabama to Woodrow Johnson Sr. and Elizabeth Bell Johnson. He departed this life on March 28, 2021 at Decatur Morgan Hospital.

Woodrow accepted Christ at an early age and was an Elder of the church, Chairperson of the Men's Ministry, a member of the Sunday school, Bible Study, Men's choir and mass choir. Woodrow was a FAITHFUL member of Macedonia CP Church of America.

Woodrow was a graduate of Decatur High School Class of 1984 where he excelled in the sports arena of football, basketball and track. Upon graduation, he attended John C. Calhoun State Community College and received a degree in Auto Body Repair and an Associate Degree in Electrical Technology.

He was employed at Wolverine Tube for over 15 years until it closed down and was currently employed with Conagra/Ardent Mills with 14 years of dedicated service.

Woodrow was a man of God, a mighty man of statue, a man of his word, he had a skill of fixing anything and would give a helping hand, a plate or a dollar to anyone in need; and he would also let you know what was on his mind. Woodrow had a passion for German Shepherds and he especially loved his dog, Sparky.

He was married to his loving and devoted wife, Mary Pitts Johnson for 20 years and was blessed with two stepchildren Sylvia and Bradley Pitts of Decatur, AL. and two loving grandchildren that he loved so dearly Bryant and Braylee Pitts.

Woodrow is preceded in death by his father, sister Karen Johnson, brother Christopher Johnson, grandparents Ernest and Cora Horton Bell, Magnolia and Earl Johnson Sr., aunt Ophefia Cunningham, uncles Earl Johnson, Jr. Elex Elliott Jr., and Fred Bell.

He leaves to cherish his memory: his loving and devoted wife, the Rev. Mary Johnson; his mother, Elizabeth Johnson; two stepchildren Sylvia Pitts and Bradley (Carnellia) Pitts of Decatur, AL; two grandchildren Bryant and Braylee Pitts; sister Carmen (John) Bass; brother Todd (Gwen) Johnson all of Decatur, AL; aunts Ernestine Elliott, and Delores McCloud; uncles Lorenzo (Sharon) Johnson, all of Decatur, AL. Lamar Johnson of Louisville, KY; two sisters-in-law, Glenda (Eddie) Troupe of Belle Mina, AL. and Martha Pitts, of Decatur, AL; mother-in-law, Edna Russell, Decatur, AL; father-in-law, J.C. (Ella) Pitts of Belle Mina, AL and a host of nieces, nephews, cousins other relatives and friends.
LINKS
Reynolds Funeral Home
http://reynoldsfh.com
Decatur Daily
http://www.decaturdaily.com