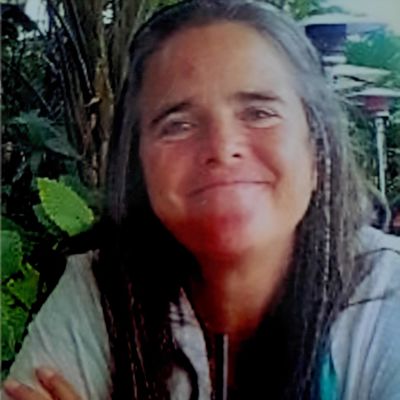 Winifred
"Winky"
Clarke Stearns
Hussey
Please share stories and photos and bring/send them to the Husseys so they can make an album and slideshow just like Winky would have done!
In Loving Memory of Winky Hussey

Winifred ("Winky") Clarke Stearns Hussey, 63, passed unexpectedly and painlessly due to cardiac arrest on October 9th, 2023, while biking with dear friends in the Lake Bled area of Slovenia.

Born of parents Winifred ("Winnie") and John Stearns on August 8th, 1960, Winky was raised in Manhattan alongside older brother Malcolm ("Mikey") and little brother John Anthony ("Tony"). Educated at The Brearley School, Winky excelled at academics and loomed large on the volleyball court. Summers were spent at Point O'Woods on Fire Island, a beloved place of pale sands, daunting surf, and rickety bikes that was always in her bones, and two years of early adolescence were spent in Switzerland, where her polyglot and globetrotting ways were born.

Winky headed straight to Dartmouth College after high school, becoming the third-generation Stearns to take it by storm; the Alpha Theta fraternity didn't know what hit it when Winky moved in. Winky ran the winter sports program, produced her finest academic work with a rigorous and original research paper on Sherman Adams, and ultimately graduated magna cum laude with a custom major in Education. In her post-college years, Winky taught first grade for two years in Portsmouth, New Hampshire. Her teaching then and through her life was both formidable and so much fun. Ahead of her time, she taught kids where they were at, bridging from her deep intuition of their imaginative worlds to the worlds of knowledge she had to share. Winky kept her ties to the Upper Valley all her life, coming out at least once a year to stay in her favorite 1700s Norwich farmhouse.

At 24, Winky took a job at the French-American school in San Francisco. She spent a vivid two years there thriving as a teacher, evolving from a sesame noodle one-dish wonder to an all-around excellent cook, and bringing people together at her Clement Street apartment. (She once invited the entire clientele of the nearby laundromat!) San Francisco was also where Winky reconnected with her husband-to-be Peter Kilpatrick Hussey after an early matchmaking attempt at Dartmouth was thwarted by Peter's habitual lateness. Winky decided that Peter's other sterling qualities more than made up for this flaw, and almost forty years of committed love began.

The couple briefly moved back to the East Coast for Peter's MBA at Harvard; Winky clinched a job over the phone on the cross-country drive and held down the household for the next two years. Somehow they found time for a joyous beach wedding at Point o' Woods and to bring firstborn Lucas ("Luke") into the world in March 1989.

Two months later, a job offer at Microsoft brought the brand-new family all the way back west to Seattle. Thus began the last and longest geographical chapter of Winky's life. In Seattle, kids Duncan and Winifred Clarke ("Clarkie") followed Luke. Winky threw herself into motherhood, raising them with the same discipline and magic she'd brought to her students, making herself an indelible part of the schools they attended (Montlake Elementary and Lakeside), and taking them on countless wonderful trips to her childhood haunts, on the road in the US, and abroad.

While deeply involved with her family, Winky had no shortage of other passionate pursuits. A lifelong lover of words, Winky was a demon Scrabble and later Words with Friends player, was always reading at least one book, and was usually hosting a book club or two or three to boot. An athlete, Winky started running in Seattle and never stopped; with fourteen half marathons under her belt, plans to switch to walking when she turned 60 were merrily discarded when 60 actually came. An environmentalist, Winky was a recycling liaison for the City of Bellevue and Bellevue School District, put many worms to work in her composting programs, and led weeding, watering, and planting ventures for the Volunteer Park Trust. A philanthropist, Winky was a central linchpin of the Homeless Cooking program for many years (the family car never quite recovered from a gumbo-transporting misadventure), earned her 100-unit donation pin from Bloodworks Northwest, and gifted to dozens of causes every year. An arts enthusiast, Winky was all in for the Seattle Repertory Theater, serving on the Board, leading fundraising campaigns, and housing as many interns as she could at the family home. Whatever Winky did, she did memorably.

Above all, Winky was an irreplaceable friend to so many. True to the silver-and-gold adage, Winky both kept close to the friends she came of age with and made friends everywhere thereafter. Her friendships were vibrant, full of laughter, full of depth and honesty (sometimes sharp honesty – you could take Winky out of New York, but you could never take the New York out of Winky). They knew no age bounds and no bounds of circumstance; no one could go from buying lunch to being best friends with the chef like her.

Winky is survived by her brother Tony, her husband Peter, her children Luke, Duncan and Clarkie Hussey, and her adored grandsons Ames, Cameron and Riley Hussey. She is preceded in death by her parents and brother Mikey.

Winky was a force unlike any other. She will be missed, so much, and for always.
LINKS
Photo Album For Memorial Slideshow
https://photos.app.goo.gl/F7gpMFtw5hTkK2ERA