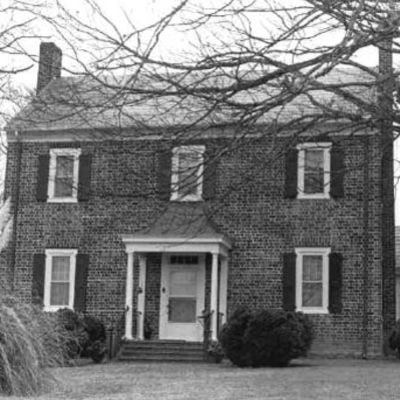 William
Tasse
Alexander I
William Tasse Alexander of Charlotte, NC passed away in 1870
The Alexander Clan

The great earthquake of 1886 caused structural damage to the outer walls of the house. Later, William Tasse installed a long steel cable through the attic extending around the two chimneys to give added support. During the brick renovation in 1967, the steel cable was removed. He planted the large maple trees in the front yard before 1900. William Tasse was a man of independent spirit, even to the extent of joining the Republican Party and thereby ostracizing himself from the majority of residents in the Mallard Creek community. When the Newell Presbyterian Church was organized on November 15, 1890, he became a charter member. He never liked the name, "Columbus," so he had it legally removed. The name Tasse was the surname of his maternal grandmother, Mary Tassey (wife of Nathan Orr). His father spelled it "Tassy"; he chose to spell it "Tasse."

On May 18, 1898, he married a school teacher from the Newell community named Mary Charlotte Watkins from Anson County, North Carolina. She discontinued her teaching career until after World War I when all of her five children (Thomas Watkins, Margery Henry, William Tasse, Robert Flow, and James Moses) were in school. As a farmer, William Tasse raised hogs, chickens, turkeys, cows, mules, and operated a sawmill and a cotton gin. Because cotton prices were very depressed, except during the First World War, he supplemented his farm income by furnishing lumber for the building of area homes, by working as a grading contractor when the Norfolk Southern Railroads were being built, and by working in the construction of cantonment camps in Virginia and North Carolina during the war. In 1927, he began constructing the large dairy farm near the house but did not live to complete it. He died on June 30, 1928, and is buried in the old cemetery at Mallard Creek Presbyterian Church.

William Tasse Alexander III was born in the house on February 1, 1904. Unlike his parents' generation, his three brothers, his sister, and he did not pursue farming careers. Both parents wanted their children to have college educations for they had grown up during the difficult economic times following the Civil War. Their father always said if he left his children money it might be taken away but no one could ever steal what was put in their heads. Eventually, each child graduated from a four-year college and two received graduate degrees. The front porch, which had been built in 1916 and the wooden portion of the house was torn down and rebuilt in 1936. In the 1920s new flooring was placed over the old floor in the downstairs brick portion of the house. Indoor plumbing and electricity were installed in 1936. A central oil furnace was added in 1943. By 1967 the third front porch was in a dilapidated state and the brick walls and chimneys needed mortar. The porch was torn down and a small, easy to maintain one was built. The bricks were reworked. Shutters copied from the original ones were hung. From 1969 to 70 the kitchen and downstairs bathroom was remodeled and modernized. On May 10, 1977, the Charlotte-Mecklenburg Historic Properties Commission listed the W. T. Alexander House as a historic property. After graduating from the University of North Carolina in 1927, William Tasse III worked in Charlotte, Asheville, and Raleigh for Retail Credit Company and later became a distributor for Auburn coal furnace stokers. In 1947 his brother, Robert Flow, and he organized Alexander Tank & Equipment Company. On July 10, 1943, he married Sarah Margaret Land of Lexington, Kentucky. They had three daughters; Sarah Land, Margaret Stafford, and Mary Neal (deceased). All his life he has been active in Mallard Creek Presbyterian Church, serving as a deacon, an elder, and on various committees. In June 1982 he will be a delegate to the Presbyterian General Assembly in Columbus, Georgia.

As a young man, William Tasse Alexander I moved down the Great Wagon Road about two miles from his father's home place. According to family tradition, William Tasse acquired in about 1820 the land and house of John H. Orr. The two-story Federal-style house had been built in 1799 and completed in 1800 by a Mr. Sadler its brick walls., 18 inches thick, were laid in Flemish bond. The bricks were made from local clay from hand molds, one of, which is still stored in the attic. Durable heart-of-pine wood was used in the floors and 19-inch width paneling in the front hall and two adjoining rooms. Among the furnishings and items that belonged to William Tasse Alexander I are a mahogany secretary, a marble-top table, a walnut floor clock, a flax spinning wheel, silver fiddle thread teaspoons, and soup spoons, and early 19th century books. The original cooking kitchen was about 40 feet from the house (about where the garage apartment now stands). A brick smokehouse was a few feet behind the cooking kitchen. A warming kitchen was located in the back-porch area of the house, about where the present-day kitchen is located. The old barn, which burned in the early 1900s, stood near where the barn is today. A row of slave houses was situated along the edge of the field behind the house. The residence is located at the intersection of W. Mallard Creek Church Road and NC Hwy 29 (N. Tryon St.) just west of the 7 Eleven the address is 216 W Mallard Creek Church Rd, Charlotte, NC 28262.

Dr. John E. Flow DD, the grandson of William Tasse Alexander I, wrote a series of articles about him and the Alexander family for the Concord Tribune in June 1940. He stated that his grandfather's property was; "Before the days of the railroads this was a regular stopping place for the stagecoach, where they would refresh the passengers." The Great Wagon Road was probably below what is now the driveway and the rock retaining wall in line with the large cedar tree in the front field. During World War I the road was moved just below the front field. Present-day NC Highway 29 was built in 1938 with the second two lanes added in the early 1950s. Dr. Flow heard his grandmother, Margery H. Cochran Alexander, (fourth wife) of William Tasse Alexander say that for three or four weeks after General Lee's surrender, her frying pan never got cold from feeding hungry Confederate soldiers who were on their way home from the war. General Lee surrendered in Appomattox, Virginia on April 9, 1865.

William Tasse knew how to succeed in the cotton economy of the Old South. At the time of the Civil War, he had acquired about 1,000 acres of land on Mallard Creek with about 30 slaves. Old receipts indicate that he delivered bales of cotton to Columbia, Cheraw, and most frequently to Camden, South Carolina. To help fill the empty wagons on the return trip, he would purchase such things as coffee, sugar, molasses, brandy, whiskey, rum, chocolates, nails, flannel, calico, rice, salt, and cheese.

During his lifetime William Tasse suffered a great deal of sorrow. His first child, a little girl nearly four years old was burned to death. He buried seven of his thirteen children and three times stood beside the grave of his wives who had died after only a few years of married life. The last years of his life were not kind to him. The Civil War destroyed his fortune, disrupted his way of life, and eliminated the very institutions around which he had structured his existence. A newspaper account at the time of his death described his mental condition during those final years.

Four years before his death, he was deprived of the use of his reason. So that instead of being, as he had been, the kind husband, the indulgent parent, the accommodating neighbor, he became a source of continual anxiety to his deeply afflicted family. William Tasse died on February 15, 1870, and is buried in the old cemetery at Mallard Creek Presbyterian Church.

The four wives and thirteen children of William Tasse Alexander were as follows:

First wife: Mary Hunter born: January 14, 1791; married: April 1, 1824; died: August 24, 1831

Children: (1) Margaret E. Alexander - born April 7, 1828; died March 24, 1832

Second wife: Margaret Moriah Harris born: November 15, 1811; married: March 28, 1833; died: April 3, 1839

Children: (2) Robert William Alexander born: September 22, 1834; died: March 5. 1856 (3) Elizabeth H. Alexander born: November 15, 1836; died: December 6. 1837 (4) Margaret M. Alexander born: April 2, 1839; died: December 10, 1843

Third wife: Mary Jane Orr born: October 24, 1820; married: June 11, 1840; died: September 15, 1842

Children: (5) John Morehead Alexander born: July 4, 1842; married: Martha Query on June 22, 1865, and had eleven children; and died February 23, 1896

Fourth wife: Margery H. Cochran born: August 2, 1824; married: August 4, 1846; died January 10, 1910;

Children: (6) Mary Jane Alexander - born November 5, 1847; married Robert Hall Flow on January 29, 1867, and reared nine children; died December 7, 1915 (7) Martha Ann M. Alexander - born February 7, 1849; died January 21, 1856 (8) Charles Filmore Alexander - born June 18, 1851; died August 25, 1852 (9) James Gilmer Alexander - born October 31, 1853; died April 24, 1873 (10) Margery Louisa Alexander - born December 10, 1855; married James Calvin Kirk on October 2, 1873, and raised ten children; died June 29, 1903 (11), Margaret M. Alexander - born February 25, 1859; died November 7, 1860 (12) William Tasse Columbus Alexander II - born October 14, 1861; married Mary Charlotte Watkins on May 18, 1898, and reared five children; died June 15, 1964 (13) Rebecca Neal Alexander - born January 6, 1864; died August 18, 1890.
Memories
Looks like something went wrong.
Reload the page and try again.