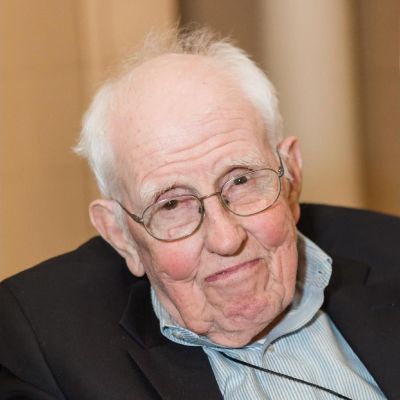 William
Rea, Jr.
What do you remember about William? Share your stories and photos here, and invite others to come share their memories.
William "Bill" Joseph Rea, Jr. was born September 25, 1930, in Houston, Mississippi to William Joseph Rea, Sr. and Adele "Queenie" Griffin Rea. Bill and his parents moved to Muskogee, Oklahoma in 1936 where they founded the Rea Brokerage Company, a wholesale food brokerage.

In Muskogee, Bill attended Franklin Elementary, West Jr. High, and graduated from Muskogee Central High School in 1948. Bill attended St. Paul's United Methodist Church, was active in sports, local civic groups, and Oklahoma Boys State. Bill also started a lifelong involvement with the Boy Scouts in Troop 7, where he earned the rank of Eagle Scout and was selected to the Order of the Arrow. Throughout high school and college, Bill worked for the Griffin Grocery Company, Eagle Supply Co., Muskogee Broadcast Company, and KMUS Radio where he hosted a weekly radio show. Even though Bill eventually moved from Muskogee, he maintained many lifelong friends there and was always proud to be a "Rougher."

Bill attended the University of Oklahoma where he was a member of the Phi Gamma Delta fraternity, Army ROTC, and numerous honor societies. In 1952, Bill graduated with honors from OU with a Bachelor of Business Administration and was commissioned as a 2nd Lieutenant in the United States Army Quartermaster Corps. He was subsequently stationed at Ft. Lee, Ft. Gordon and Ft. Hood before leaving active duty in 1955.

Bill moved to Tulsa in 1955 to join Merrill Lynch, Pierce, Fenner & Beane, where he began a lifelong passion with the financial services industry. Bill's initial training at Merrill Lynch included the fundamentals of value investing set forth in Benjamin Graham's The Intelligent Investor. Graham's book provided the foundation upon which Bill built an extraordinary career. At Merrill Lynch, Bill was known as an exceptionally talented investment advisor who always put his clients' interests first. Bill officially retired from Merrill Lynch on January 9, 1998 after 43 years.

Bill married his wife Nancy Holloway in 1970 at University Methodist Church in Austin, Texas. As a husband and father, Bill was always honest, fair, principled, and gave unconditional support to his wife, and their only child, James. The Reas attended Boston Avenue Methodist Church, enjoyed traveling and were active in the Tulsa Ski Club, Empire Club and Red Castle Gun Club. In addition, Bill was a loyal fan of Sooner Football, holding season tickets for more than 50 years.

Community involvement and charity were a top priority to Bill throughout his lifetime. Bill was a member of Tulsa Habitat for Humanity's Tuesday Morning Miracle Workers, the Downtown Tulsa Rotary Club, and served as an adult leader of Boy Scout Troop 222. Bill most enjoyed devoting his time and talents as a financial advisor by serving as an officer of the Robert S. and Helen Grey Trippet Foundation from 1992 until his death.

Bill was preceded in death by his parents and wife Nancy. He is survived by his son James Griffin Rea and his fianc?, Erin Simpson of Tulsa; his niece, Mollie Davids of Durango, CO, and nephew, Stephen Wells of Oklahoma City; numerous cousins including, Carl Tinch of Richardson, TX, Eloise Woolsey of Tulsa, Dorothy Mason of Duncan, Nancy Leake Sevenoaks of Tulsa, John W. Griffin of Tulsa, David F. Griffin of Nichols Hills, and his House Manager, Genevieve Cook of Broken Arrow.

In lieu of flowers, memorials may be sent to the Robert S. & Helen Grey Trippet Foundation, P.O. Box 701775, Tulsa, OK 74170 or the William J. Rea, Jr. Charitable Foundation, c/o Merrill Lynch, 6100 S. Yale Ave., Suite 1500, Tulsa, OK 74136.

A memorial ceremony honoring Bill's life will be held 2PM Saturday, February 6, 2021, at Boston Avenue United Methodist Church in Tulsa. Attendance in person will be for immediate family only. The service will be streamed for the public on the Bixby Funeral Service Facebook page.
LINKS
Bixby Funeral Service
http://www.bixbyfuneralservice.com

Chickasaw Journal
http://djournal.com/chickasaw