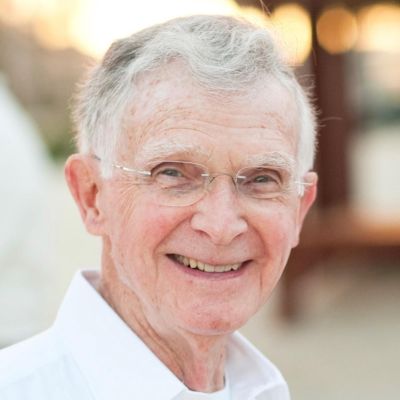 William B.
Johnson, MD
What do you remember about William B.? Share your stories and photos here, and invite others to come share their memories.
Dr. Bill Johnson, age 96, passed away peacefully in Dallas, Texas, on November 12, 2021. Born on June 26, 1925, to Margaret and Thomas Bernard Johnson in Birmingham, Alabama, Bill grew up in Ellaville, Georgia, graduating high school at the age of 16. He went on to study pre-med at Emory University, where he was a member of Kappa Alpha Order. As a sophomore he joined the United States Navy V-12 program which ensured there would not be a shortage of doctors in the country during World War II. Bill graduated medical school at the University of Georgia in 1948. After interning at Baylor University Hospital and joining the U.S. Naval Reserve he was called to active duty to the U.S. Naval Hospital in Memphis, Tennessee to serve as a medical officer. Released from active duty, Bill took a 2-year residency in Pediatrics at Memorial Hermann Hospital/Baylor College of Medicine in Houston, Texas followed by a Cardiology Fellowship at the New Haven Hospital/Yale University School of Medicine. While there he was recalled to active duty to the U.S. Naval Hospital in Jacksonville, Florida to serve as a medical officer in the dependent's section treating children of naval personnel. Bill re-entered civilian life as a pediatrician, initially at the Baxter Clinic and Hospital in Shawnee, Oklahoma and then in private practice in Dallas, Texas from 1957 to 2007.

Shortly after his move to Dallas Bill met his wife of 58 years, Norma Jean Cook, who lived across the pool at the Stardust Apartments on Gaston Avenue. They married in 1961, built their home in Lakewood and had two children, Jennifer and Christopher. It was in Lakewood that they met lifelong friends and neighbors, many of whom were patient families of Dr. J. He was famous for his house calls at any time of day or night and always had a hand-drawn cat balloon to ready to give away. For over 50 years he rarely missed grand rounds at Children's Medical Center and was also a member of Lakewood Country Club and the Exchange Club of East Dallas.

Known by his family as "Papa" he will forever be missed and remembered for his corny jokes and love of dancing. He was preceded in death by his parents, Margaret and Harry Collins, Sammye and Thomas Johnson, his wife, Norma Jean Johnson and grandchildren, Natalie Grace Eagle and John Robert Eagle, Jr. He is survived by his daughter, Jennifer Johnson Eagle (John), Christopher Cook Johnson (Amy), grandchildren Amanda Eagle George (Chris), Alexandra Michelle Eagle, Vincent Cook Johnson, Nicholas Henry Johnson and Ava Danielle Johnson, and great grandchildren Harper James George and Wesley Eagle George. He is also survived by his sister Sherry White (Tom), brother-in-law Sidney Tolbert, and sisters-in-law Gloria Cook and Marian Cook Bullard (John) and numerous nieces and nephews.

The family would like to extend their sincere thanks and appreciation to Raquel Burmudez, the team at Augustine including Frank, George and Greg and the staff at the Plaza at Edgemere, especially Ike. Interment and memorial service will be held later. In lieu of flowers, please consider a donation to Children's Health, 1935 Medical District Drive, Dallas, TX 75235.
LINKS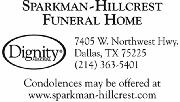 The Dallas Morning News Obituaries
http://www.dallasmorningnews.com