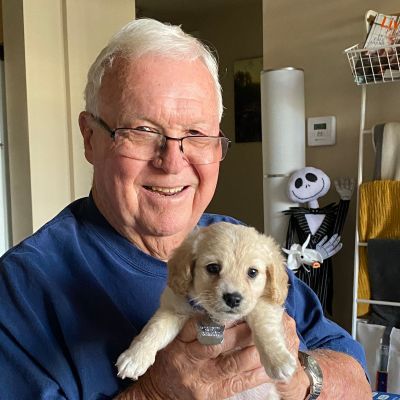 Wayne
Bausman
Help us celebrate Wayne! Please share your stories and photos, and invite others who remember Wayne.
Wayne Bausman was born in Monterey Park, California, on May 4, 1939, to Willard and Emma Bausman of Alhambra, California. Wayne grew up in Alhambra with his mother, brother, and sister, his father having passed away in 1944. Wayne attended Alhambra High School and graduated in 1957. Wayne was drafted into the Navy in 1962 and served aboard the USS Ranger Naval vessel. Just before he embarked on his Navy journey, Wayne was introduced to the love of his life Laurel King through a mutual family friend, and not more than five months later was engaged to be married. Dutiful to the Navy, the engagement lasted two years, culminating in a San Fernando Valley Ceremony on a sweltering August day in 1964. Wayne spent the first part of his nearly 58-year marriage working for Southern California Edison as a Service Planner. While working for Edison, Wayne attended California State University Los Angeles and earned his Bachelor of Science degree. In addition to completing his formal education while working for Edison, Wayne also became a licensed real estate broker, an industry he really enjoyed.

In early December of 1979, Wayne and Laurel brought into their family a little girl, and another joined in 1985, which completed the family of 4. Wayne was an excellent provider, not only in the typical sense of making sure his family had everything they needed but as an outstanding provider of family fun and laughs. From snow skiing in Colorado, water skiing at Bass Lake and California Delta, house boating on Lake Powell, Walt Disney World Trips, cruises and RV camping with good friends, trips to Alaska and Hawaii with Laurel, and several other family road trips in between. Wayne was indeed the Clark Griswold of the Bausman clan and wanted nothing more than to make each moment count and for everyone with him to have a great time.

Wayne began his Consulting Firm in the 90s. He and Laurel grew the business to be successful and allowed him a flexible schedule for he and Laurel to build their dream house, for him to play with his zillion (according to his wife) model trains, and build a garden railroad in his backyard. In between building that dream house and playing with trains, Wayne enjoyed playing golf with his friends and his younger brother. When a grandson joined the family in 2010, Wayne became the most wonderful Papa and passed along a fierce love of trains and a love for the game of golf to his only grandchild.

To think that there will be gatherings without a Wayne joke doesn't just draw a tear but escalates into a profound sadness that this funny man who boasted a big, happy personality has left a void that will never be filled. On Tuesday, May 31st, the day after Memorial Day, Wayne unexpectedly passed away while on an RV Trip to Bishop, California a trip he was on with a wonderful group of friends and his beloved wife, Laurel. Wayne leaves behind him, in the wake of sadness, a wife of nearly 58 years, whom he loved more than anything in this world, and a daughter who could only hope to be as wonderful a parent as he was. Wayne also leaves behind a son-in-law who will deeply miss those last-minute Christmas Eve runs for stocking stuffers and a grandson whose first words upon hearing of his grandfather's passing were, "Please take me to a golf course so that I can golf for Papa, I want to make him proud ." Wayne also leaves behind extended family and many close friends and will be dearly missed.

At the time of publication, the family has not planned a memorial service but asks that if you wish to celebrate Wayne's life, you may do so by adding your own memories and pictures to this page so that everyone can share in the remembrance.


LINKS

Find A Grave
https://www.findagrave.com/memorial/240214790