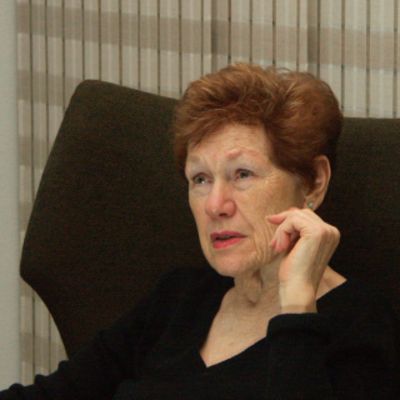 Vivian
Jones
What do you remember about Vivian? Share your stories and photos here, and invite others to come share their memories.
Vivian was born in 1932 in Allentown, Pennsylvania, to Thomas and Agnes James. Along with a younger sister and brother, Marilyn and Tom, she was raised in Malverne, a village located in Long Island, New York. She was predeceased by both of her siblings, Marilyn in July 2019 and Tom in April 2022, and her former husband Charles in 2007.

Vivian enjoyed singing during her youth and sang in the choir at the Protestant church where her father was a deacon, starting as a soloist there at the age of 12. She was a serious and talented vocalist and took voice lessons for many years, but was discouraged from pursuing a career as a singer by her father, since the entertainment industry was not considered appropriate for virtuous women. In the early 1950's, women were generally expected to get married, have children, and stay at home caring for family; however, it was important to her father that his daughters, as well as his son, be able to provide for themselves. Vivian excelled at school and after graduating high school early, attended Mary Washington University, the women's college associated with the University of Virginia, earning a Bachelor's Degree in Biology with a minor in Chemistry in 1953 with the intention of pursuing a career in medicine. However, during her college years, she became inspired to help the Deaf and Hard of Hearing and decided to change her course of study to Education, earning a Master's Degree in Education in 1954, specializing in the Deaf and Hard of Hearing from Columbia University.

After graduate school, she moved to California to begin her career as a teacher in the field of Special Education at the John Tracy Clinic. She met her future husband, Charles, through a mutual friend Dr. Alathena Smith, who also worked at John Tracy. They were married in October 1956 with Alathena hosting their wedding reception in her garden. The couple settled first in Hollywood while their house in La Cañada was renovated and expanded. Vivian and Charles moved to the family home on Gould Avenue in La Cañada, California in 1960. After the birth of her first child, Vivian took a ten-year hiatus from her work in education in order to raise four children. She continued to be interested in music, attending many musicals with her husband and acquiring a large collection of records. There was always music in the home, either Charles playing the piano or a record album from a musical or an opera singer. Vivian and Charles also enjoyed traveling throughout the continental United States with their children in the family motorhome; Northern California was the favorite destination for Vivian, especially the Point Reyes Peninsula.

Vivian returned to her career as a teacher of the Deaf and Hard of Hearing shortly after the birth of her fourth child in 1970. After 20 years of marriage, the relationship ended in divorce in 1976. Vivian moved with her 4 children to another home in La Cañada. She continued to be passionate about her work teaching deaf and hearing-impaired children, which resulted in her being nominated and serving as a Mentor Teacher for the district. She returned annually to Point Reyes for many summers before and after retirement for several weeks of vacation in her favorite place. She retired from Farmdale Elementary School (LAUSD) in 2000, after more than 30 years teaching deaf and hard of hearing pre-school and kindergarten children.

After retirement, Vivian continued to enjoy cooking, gardening, reading, visiting with friends and family, and listening to music. She passed away in her sleep on 28 October 2022 at the age of 90. She is survived by her son Bruce, daughters Laura, Emily, and Sarah, their spouses/partners, and her grandchildren Miryam and Noam.