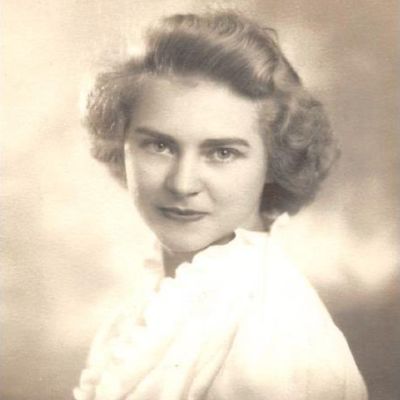 Virginia
Mae
Lindow
What do you remember about Virginia? Share your stories and photos here, and invite others to come share their memories.
Virginia Mae Lindow (Nielsen), 95, of Brookfield, WI passed away on Saturday, February 6, 2021. "Gin" or "Gini", daughter of Richard and Herdis Nielsen (predeceased).

Gin was born in Withee, WI on May 23, 1925, graduated from Withee High School in 1943, and later received her Bachelor of Education from UW-Stevens Point.

At age 16, she met her future husband, Wally, at 4H camp at the Clark County Fair in Neillsville, WI. She married Wallace Raymond LIndow on August 23, 1946. They had a dairy farm in Chili, WI until 1968 when they sold it and moved to Greenfield, WI and then to Wauwatosa, WI.

In addition to being a farm wife and mother of six, Gin taught at Taft, a one-room country school house outside Loyal, WI until 1968. From 1969 until retirement in 1988, she taught 5th grade at Edgewood Elementary in Greenfield, WI. Her passion and love for nature, the arts, and all things creative continued with Panache- her seamstress and bridal boutique, her beautiful flower gardens, and her spectacular quilting. She was also a potter, ballroom dancer, singer, a great cook and baker, and the author of two books. Gin lived life to the fullest and faithfully loved her family and the Lord. She was the matriarch of the family and loved to entertain. She was a talented and beloved lady who will be missed and remembered by everyone who met her.

She is preceded in death by parents Richard and Herdis Nielsen; husband Wallace Raymond Lindow; son Richard "Ricky" Lindow; brother John Nielsen and sister Irene Peppel.

Gin is survived by her five children Mark Lindow (Julie), Daniel Lindow, Jill Martinez (Joe), Jane LIndow, and Timothy Lindow (Kerra); 13 grandchildren; 20 great grandchildren; sisters Mary Louise Catura, Dori Egan, and Sonja Spitzmesser; a host of nieces and nephews and other beloved friends and relatives.

A celebration of life service will be at Elmbrook Church 777 S. Barker Road, Brookfield, WI 53045 on Friday, April 23, 2021, at 10:00 A.M. A private service will be at Grace Lutheran Church later in 2021. In lieu of flowers, please send donations to Grace Lutheran Church 11284 US-10 Marshfield, WI 54449.
LINKS

Marshfield News-Herald
http://www.wisinfo.com/newsherald