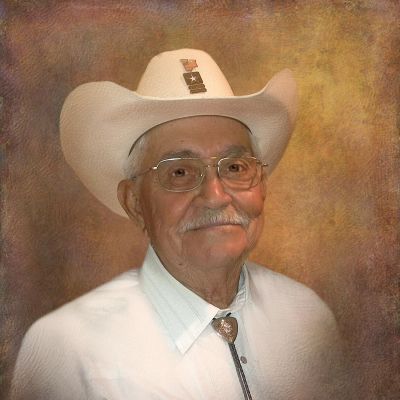 Victor
Vera Jr.
Did you know Victor? Please share your stories and photos, and help spread the word about this page!
Victor Vera Jr., beloved husband and father, passed away peacefully surrounded by his family on March 7, 2020 at the age of 83. He was born in what was once known as the community of VeraCruz, Texas to Victor Vera Sr. & Maria Rios Vera of Rios, TX on April 24, 1936.

Victor Vera, Jr. met his first love, Petra Salinas Vera in Alice, TX. They would marry and go on to have eight children and build a legacy in the farming and ranching community in Rios, TX for over four decades. He was a successful farmer, rancher and businessman for over 30 years. He was a veteran of the United States Army from 1959 to ...... but if you would have asked him today, he was still an active member of the United States Army. He was probably the biggest supporter of the Republican Party and talking politics was just another of his favorite past times. He was the patriarch of the family and a very well respected member of the community. Some would even call him the mayor of Rios, TX. After the passing of his first love, he later met his last love, Herlinda Garcia, who he would marry and spend the rest of his life with.

He is preceded in death by his parents Victor Vera Sr. and Maria Rios Vera, mother of his children-Petra Salinas Vera, sons-Cesar Vera, Rene Vera and Victor Vera III and a brother, Juan R. Vera.

Victor is survived by his wife, Herlinda Garcia Vera, his children, Esther V. Cruz (La Porte, TX), Eliza V. (George) Wolfe (Angleton, TX), Edwina (Horacio) De Los Santos (San Antonio, TX), Magda (Victor Vera III-deceased) L. Vera (Ricardo, TX), Francisco (Ana) Vera (Corpus Christi, TX), Eunice V. Gaytan (Bishop,TX), Ismael (Emily) Saenz (Agua Dulce, TX), Enriqueta (Kike) Saenz (Rogelio Perez) (Falfurrias, TX), Herlinda (LC) Saenz (Robert Mendoza, Jr.) (Falfurrias, TX), 24 grandchildren and 6 great grandchildren, his siblings, Agosta Garcia, Matias (Dora) Vera, Velia (Marcos) Lamb, Odilia (R.H.) Gonzalez and Mary (J.R.) Elizondo as well as numerous nieces and nephews.

Visitation will be held on Tuesday, March 10, 2020 from 5:00 p.m. to 9:00 p.m. at Turcotte-Piper Mortuary with a rosary to be recited at 7:00 p.m. that same evening. A funeral mass will be held March 11, 2020 at 10:00 a.m. at the St. Gertrudis Catholic Church in Kingsville, TX. Interment will follow at Vera Cemetery in Rios, TX.

Services are entrusted to Turcotte-Piper Mortuary, 205 General Cavazos Blvd., Kingsville, TX 78363.
LINKS

Alice Echo News
http://www.alicetx.com