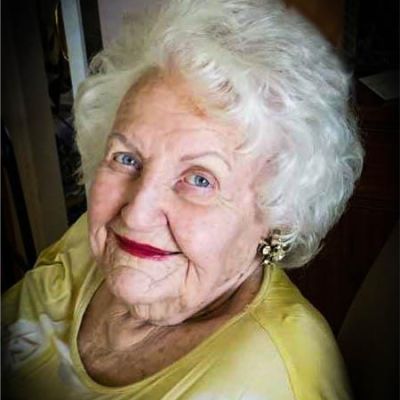 Trinabeth
Reed
Johnson
How do you know Trinabeth? Please share your stories and photos, and help spread the word about this page!
Trinabeth Reed Johnson (Teta), 87, went to be with our heavenly Father on August 8, 2019. She was born on November 28, 1931 to Nick and Lois Reed, ranching family in Sterling County. She was a graduate of Sterling ISD attending Stephens College for Women and Texas University. In 1950, she met the love of her life Dean Johnson. They married October 27th, 1951 and shared a whirlwind adventurous life for 52 years until his death in December 21, 2003.

During their union, they had four children, who married and gave them more to love. Hank and Becky Johnson, Odessa, Tx, Nikki and Eddie Michulka, Sterling City, Jacque and Mario Verastegui(deceased), Sterling City, and Lilli and Gary Hensley, Sterling City.

Soon, her greatest joys, her grandchildren were added to her heart Misty and Tony Grimes, Big Spring, Bruce Puckett, Odessa, Deana and Michael Jaramillo, Sterling City, Tyson and Courtney Verastegui, New Braunfels, Skipper and Ashley Michulka, Lubbock, Joseph Hillger, Sterling City, Madelyn Hillger and James Martin, San Angelo, David Dean Hensley, San Angelo and William Johnson, deceased, and Charlette Puckett, deceased.

Soon, came even greater joy to her heart, her GREATS, as she called them and tea parties galore. Christopher Adwell, Madison Verastegui, Lauren Verastegui, Alexis Verastegui, Allison Verastegui, Hayley Jaramillo, Paylin Jaramillo, Carson Mackie, Thomas Mackie, Piper Michulka, Penelope Michulka, and Manna Hillger.

Then came her joy of joys, her GREAT GREAT Judson Dean Chism!

She has two special first cousins, Mims and Karen Reed of Dallas Tx and LeRuth and Danny Stewart of Sterling City, who held a special place in her heart. Also, loving cousin, Taylor Sparks with wife, Mary Ann.

Her brother, Neal J. Reed, and special cousins, Cecil McDonald and Forestine Sparks preceded her in death.

Trinabeth leaves several nieces, nephews and more cousins scattered from Idaho to Texas. She felt and showed so much love to all.

Trinabeth loved her family and friends, which were spread all over the world and close to home.

She loved traveling the world. Living in Iran, the jungles of Guatemala, Mallorca, Spain, and Kuwait following the love of her life.

She loved the Lord and gave her family an upbringing of being believers. What a blessing!

Her passion was playing bridge and had a special bond with anyone who would sit and play for a while. She belonged to the Noratadata Club and cherished her club sisters and all the fill-ins. Special friends Sue Stroman, Helen Glass, Charlene Davis, Dawn Foster, Martha Foster, Joy Foster, Rossann Jamison and Barbara Lou Ratliff. Special friends who predeceased her but never forgotten, Jacque McClure, Carolyn Terry, and Mary Douglas.

Visitation will be Monday, August 12, at her home, 8701 US Highway 87 North from 5p.m. to 7p.m. Services are Tuesday, August 13, 2019 10:00a.m. at the Sterling City Church of Christ with Minister Don Davis officiating and song-leader James Crowder. Burial to follow at the Sterling City Cemetery. Pall bearers will be Joseph Hillger, Bruce Puckett, Michael Jaramillo, David Hensley, Ben Turney, Hayden Chism, Skipper Michulka, Tony Grimes, and Christopher Adwell.

If you wish to send flowers, which she loved, Faye's Flowers in Big Spring, Tx 432-267-2571. Or, you may send a donation to Team Rubicon National Headquarters, 6171 W. Century Blvd., Suite 310, Los Angeles, CA 90045 ,90045, International1 World Avenue, Little Rock, AR/USA 72202, or Sterling County Library, PO Box 1130, Sterling City, Texas, 76951-1130.

A special thanks to Shorty Radde, Sheri Walker and Juanita Martin for ambulance transport, Encompass Home Health for all the months of loving care, Diane Bass Nursing Care in hospital, Dr. Allred, Dr. Parhizgar, Dr. Nickles, the wonderful staff at Shannon Hospital 5th floor, true angels of mercy, and Dr. Walters, Lubbock, Tx.
LINKS
Abilene Reporter-News
http://reporternews.com

San Angelo Standard-Times
http://www.gosanangelo.com