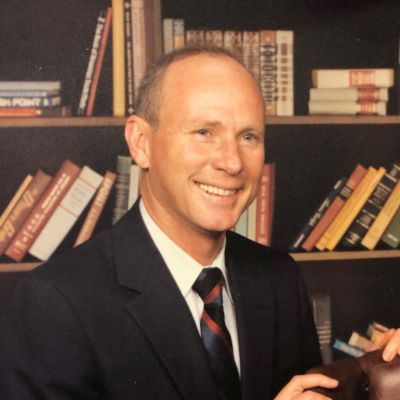 Thomas
Wesley
Herbst
What do you remember about Thomas? Share your stories and photos here, and invite others to come share their memories.
Thomas Wesley Herbst, 87, of Jasper, died Friday, January 8th, 2021. He was born on November 3, 1933, in Caldwell, Texas to Mildred Lawson Herbst and Edgar Frank Herbst.

Tom was a 1956 graduate of the University of Texas where he majored in Chemical Engineering and played saxophone in the Longhorn marching band. He worked for the Ethyl Corporation in Houston before returning to Jasper in 1959 to work for the First State Bank. He returned to school during summers and became an honor graduate of SMU's Southwest Graduate School of Banking in 1964. Tom took over as President and CEO of the First State Bank of Jasper in 1970 where he remained until his retirement in 1998. When the bank was sold to First Bank & Trust, Tom stayed on as an Advisory Director from 1999-2003.

Tom had a long, successful career in the banking industry. He was a member of the Texas Bankers Association, where he held the position of Director from 1985-87 and again from 1990-91. He was the Community Bankers Council Chairman in 1980 and served on various TBA committees from long-range planning to lender liability to government relations. He was an Advisory Director of the Community Banker Division of the American Bankers Association from 1981-84. Locally, Tom served as the Director of the Deep East Texas Savings & Loan Association from 1975-1983. He was a partner in the Jasper Insurance Agency from 1960-1988.

Tom was actively involved in the Jasper Community as a member of the Lions Club since 1959 and the Dewitt Clinton Masonic Lodge #29 since 1976. He was voted outstanding Young Man of Jasper in 1962. He served as Director and Treasurer of the Jasper Economic Development Corporation, was President of the Jasper County Industrial Development Corporation, Director of the East Texas Chamber of Commerce, President of the Jasper Chamber of Commerce, and a City of Jasper Council Member.

Tom was an active, lifelong member of the First United Methodist Church of Jasper, and before his death, held the distinction of being the oldest living church member. He held the position of church treasurer for 20 years. He was also Trustees Chairman, Finance Chairman, and served on numerous committees, including the building committee and board of stewards. He also enjoyed teaching Sunday school.

Tom and Iris were married in 1957 and enjoyed 64 wonderful years together. They were best friends who never tired of long conversations and spending time together. They travelled the world playing golf, enjoying cruises, fine dining and seeing art together. Tom and Iris loved to entertain, and the Herbst house was a favorite for dinner parties of all sizes. Tom's sense of humor and quick wit made him a coveted host and popular party guest.

Tom was a wonderful father to his children Kim and Cade. He enjoyed taking them on walks in the woods, on long drives exploring East Texas and playing board games with them. Tom's granddaughters came into his life at the perfect time - after retirement. He adored Anna and Emily, who nicknamed him Bop Bop, and delighted in playing with them in the yard or in the pool when they were younger. He taught Anna to drive his golf cart and spoiled Emily with breakfasts of chocolate cake and 8 pieces of crispy bacon.

Tom loved people and never met a stranger. He was patient, kind, and treated all people with equally great respect. He was always willing to help anyone in need with financial assistance, financial advice or to set up a loan program custom tailored for any budget. Tom made a difference in the lives of countless people in the days when banking was done with a quick survey of checking accounts and a handshake. He helped people set up businesses, buy cars, finance homes and save for a secure future. He made a lasting impression on all who met him. The world was a kinder, gentler, happier place because of him. He will be missed.

Survivors include his wife, Iris Ruth Pool Herbst of Jasper, daughter Kim Steinhagen and husband Roy of Beaumont, and granddaughters Anna and Emily Steinhagen; nephews Randy Herbst and wife Debbie of Jasper, Rusty Herbst and wife Robin of Hudson; Ray Herbst and wife, Robin, of Leander; John Herbst and wife Suzanne, of Austin; brother-in-law John Pool and wife Janet of Sam Rayburn; nephews Kendall Ernst and husband Carter of Conroe; and Charles Christopher Pool of Conroe. Tom is preceded in death by his parents; Edgar and Mildred Herbst; son Charles Cade Herbst, brother, Edgar Frank Herbst, Jr., and brother Robert Miles Herbst.

The family wishes to thank Geneva Birdlong for her loving care and sense of humor. She could always make Tom laugh and get him motivated to enjoy a walk, a glass of water or even a trip to the grocery store. Thanks also to Robert Gilder for keeping Tom's beloved yard in beautiful shape year round.

Visitation will be from 5:00 - 7:00 p.m., Sunday, January 10, 2021, at Stringer & Griffin Funeral Home in Jasper, Texas. The service will be a private graveside service. The family requests that in lieu of flowers, donations be made to the First United Methodist Church of Jasper.

Services are under the direction of Stringer & Griffin Funeral Home of Jasper.
LINKS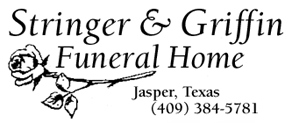 Stringer Griffin Jasper office

Beaumont Enterprise
http://www.beaumontenterprise.com