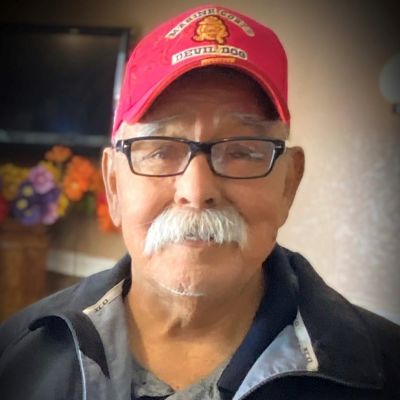 Thomas Gene
Starr Sr.
Help us celebrate Thomas Gene! Please share your stories and photos, and invite others who remember Thomas Gene.
Thomas Gene Starr Sr., 78, passed away Feb. 11, 2022, at Comanche County Memorial Hospital, Lawton, surrounded by family. He was born April 23, 1943, in Lawton to David Starr Sr and Rosie Zotigh Hall. He was an enrolled member of the Kiowa Tribe.

Thomas attended and graduated from Apache High School. He met and married his "honeybuns" Tessie Satepauhoodle on Nov. 9, 1963. They would be celebrating their 59th wedding anniversary this year. They lived in Carnegie, and raised four children. He loved hiking, fishing, reading and was a great storyteller. Thomas was baptized at the First Baptist Church. He was involved as assistant pastor at the White Church in Carnegie.

Thomas worked as a cook for the military and loved telling stories about the Vietnam war to the grandchildren. He then worked for Caddo County District 3 for 26 years before retiring in 2001. There he made numerous lifelong friends that would still refer to him as "D3 Frybread" his CB radio handle.

He was preceded in death by his parents, David and Rosie; sister, Joy Faye Blackwolf; brothers: Rev. Henry Leon Redbone Sr.; Rev. David Starr Jr.; daughter, Anita Rae Keahbone, son-in-law, Mark Keahbone, great-granddaughter, Elise Genevicia Sikes-Morales.

Thomas is survived by his wife, Tessie Starr of the home; children: Deanna Michael and husband Jerry, Ft Cobb; Allyson Starr, Louisville, Kentucky; Thomas James Starr Jr., Carnegie; grandchildren: Jerry Wayne Starr, Oklahoma City; Terri Salazar and husband Gustavo, Carnegie; Eric Zackary Michael, Fort Cobb; Melina Nicole Michael, Fort Cobb; Daniel Sikes, Louisville, Kentucky; Louis Sikes and wife Barbarita, Sellersburg, Indiana; Brianne Gregory, Louisville, Kentucky; Ethan Bearden, Louisville, Kentucky; Thomas Joseph Starr III, Austin, Texas; Aubrianna Reeves, Carnegie; 11 great-grandchildren; sisters: Alice Faye Monetathchi, Elgin; Inola Killsfirst and husband Phillip, Apache;Nellie Fletcher, Apache.

Visitation will be 1 p.m. to 8 p.m., Sunday, Feb. 13, 2022; 9 a.m. to 7 p.m., Monday, Feb. 14, 2022, at Ray and Martha's Funeral Home, Carnegie. There will be a wake from 7 p.m. to 9 p.m., Monday, Feb. 14, 2022 at Ray and Martha's Funeral Home, Carnegie.

Graveside services will be at 11 a.m., Tuesday, Feb. 15, 2022, Carnegie Cemetery, Carnegie under the direction of Ray and Martha's Funeral Home, Carnegie.
LINKS
Ray and Martha Funeral Home - Hobart

Lawton Constitution
http://www.lawton-constitution.com