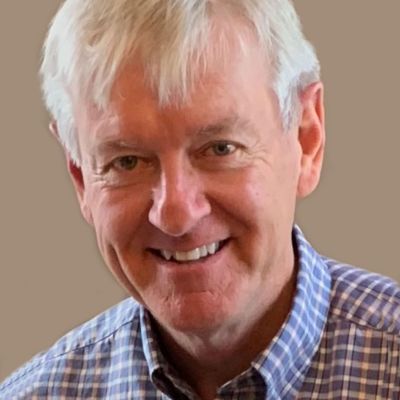 Thomas E. "Tom"
Hoelscher
Help us celebrate Thomas E. "Tom"! Please share your stories and photos, and invite others who remember Thomas E. "Tom".
Thomas Eugene (Tom) Hoelscher, 71, of Dubuque, IA died on December 17, 2022 of cancer. He endured cancer with grace, dignity, and a wry sense of humor.

Services will be held at Nativity Parish in Dubuque, IA. The visitation will be Wednesday, December 21, 2022 beginning with a prayer service at 3pm and concluding at 7pm. A Mass of Christian Burial will be Thursday, December 22, 2022 at 10am with Father Jim Miller officiating. Behr Funeral Home is assisting the family.

Tom was born November 24,1951, in Washington, MO to Elsie (Lamke) and Herbert Hoelscher. He spent his boyhood in Union, MO where he attended Immaculate Conception School. Tom traveled to East Troy, WI to attend Divine Word Seminary High School, graduating in 1969. There he learned to ice skate, play tennis, and play soccer. Tom went on to attend Divine Word College in Epworth, IA, receiving his BA in Sociology in 1972. He was active in sports, dance, and musicals. He also taught himself to play the guitar, albeit poorly.

Tom married Mary Margaret Kresse, of Maxwell, IA, in 1974. They were blessed with five children. He taught all the children to play soccer, tennis, skate, ski, and appreciate the outdoors. He loved to dance with Mary - at weddings, at live music events, in the living room.

Tom spent his career helping people in the community. He worked for Hillcrest Family Services, first as an activities director, where he connected with young people by roller skating, camping, and rock rappelling alongside them. He then became a social worker for Hillcrest. In 1984 Tom joined Juvenile Court Services as a juvenile probation officer and he became Chief in 1994.

Throughout this time, Tom worked a second job as a soccer coach, first for the inaugural Clarke Men's program, then for the first Senior High School Boys' program, and finally for the Wahlert High School Boys' program. After coaching, Tom was a soccer referee for 26 years at the high school and collegiate levels. He also played soccer for the Dubuque Steamers.

Upon retirement from work in 2014, Tom filled his time with house painting, golfing, ski instructing at Sundown, practicing yoga, and playing pickleball. He joined the 'Not Dead Yet' Men's Softball team and played hockey with the Dubuque Senior Saints. Tom volunteered as the Treasurer for Friends of Dubuque County Conservation and was active in Nativity Parish as a lector and usher.

Tom enjoyed life very much. He had the best laugh. He was proud of his children and grandchildren. Tom was social and beloved by his relatives and friends. He enjoyed traveling to Colorado and Wyoming to visit family. He went to Ireland, Mexico, and Italy with his wife. Tom also loved being at home, fixing up the house or yard, and playing cards or board games. Tom would welcome every friend and relative to join, teach them to play, coach them to improve, and usually go on to win. Tom was the consummate fan for his children and grandchildren.

Tom is survived by his wife, Mary, of 48 years, his children and their spouses: Matt, (Mary Frances) Hoelscher of Jackson, WY; Ben, (Emily Duehr) of Dubuque; Drew, (partner, Danielle Rolfe) of Denver, CO; Elizabeth Cullen, (Tyler) of Mount Vernon, IA; and Thomas Jr., of Dubuque. Tom loved his grandchildren: Sam, Ava, Vivian, Charlie, August, Ruby, Keegan, Fletcher, Theo, Nora, Owen, and Michela. He is also survived by his brother, Herb Hoelscher (Brenda) of Union, MO, and sister, Lynn Bucher (Jim) of Hermann, MO. Tom also had ten brothers and sisters-in-law on his wife's side: Sarah (Gene) Behrens, Marion (Jean) Kresse, Joe (Olga) Kresse, Charles (Donna) Kresse, Robert (Cyndi) Kresse, Marie (Dave) Elliott, Patricia (Cap) Casady, Theresa Kresse, Ben (Candace) Kresse, and Helen (Bill) Langebartles.

Tom was preceded in death by his parents, Herb and Elsie Hoelscher, and parents-in-law, Joe and Sally Kresse.

In lieu of flowers, charitable donations may be made to Friends of Dubuque County Conservation or Divine Word College in Epworth, IA or Hospice of Dubuque.

The family would like to thank Tom's oncologist, Dr. Engleman, the staff at Mercy One, Tom's urologist, Dr. Horchak, and Hospice of Dubuque, especially Melissa and Nicole.
LINKS


Telegraph Herald
http://www.thonline.com