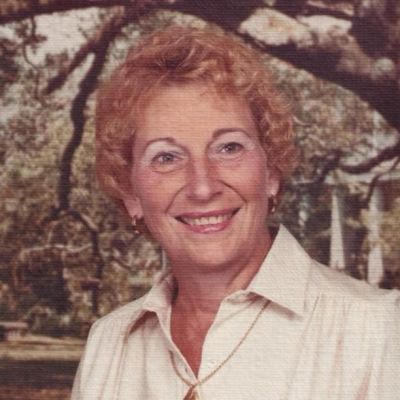 Thelma
Williams
Did you know Thelma? Please share your stories and photos, and help spread the word about this page!
THELMA MAE (BUCK) WILLIAMS joyfully stepped into heaven on Thursday, September 30, 2021, at the age of 94, with loved ones by her side. Although Thelma is no longer, with us on this earth, she is alive and well with Jesus and also in our hearts and the hearts of the many she touched. Thelma was born in Houston, Texas on July 29, 1927, to the parents of Pitman A. Buck, Sr. and Katherine W. Kaule, who preceded her in death. She graduated from Ball High School in Galveston, Texas in 1944 and married her high school sweetheart, Jack D. Horn, Sr., the father of her children Judy, Jack and Lisa Horn. After graduation, she began her career as a Stenographer for the US Navy. Thelma began her 40-year career with NASA in downtown Houston, prior to its relocation to the current location of NASA Johnson Space Center in Clear Lake City.

At NASA, Thelma met her partner in life, Franklin Udolph (Rudy) Williams, and they were married on December 17, 1966. Rudy had 2 sons Mike and Monty. Thelma worked for NASA for 40 years in various administrative roles, her last being the Division Secretary for the Propulsion and Power Division. Thelma was a member of American Business Women's Association and Toastmasters and Military Wives Club. Later in life, she was also an active member of the Clear Lake Stroke Support Group. Both Thelma and Rudy took an early retirement in 1984. While working for NASA and after her retirement, Thelma pursued and accomplished a lifelong goal to obtain a college degree. Thelma reached her goal and graduated in 1989 at the age of 62 from University of Houston, Clear Lake with a Bachelor in Business Administration. The local Bay Area Citizen wrote a short article on Thelma about her determination to obtain her degree and what it meant to her. She was dubbed in this article as the "Grandma Graduate." Her family and friends were so very proud of her!

After retirement, Rudy continued to do consulting work for various NASA contractors. Thelma on the other hand, had an open slate as to how she would fill in her days after NASA and obtaining her degree. She loved tennis and enjoyed playing and competing in tournaments with the Bay Oaks Tennis League well into her 70's. She also loved golfing, playing dominoes, cards and sewing, which eventually lead to her business "Mana's Custom Tailoring." She was an amazing seamstress, a skill she learned as a young mother with 3 children. She and her beloved niece, Sharon Meyer, learned to quilt and spent many wonderful times together sewing, taking quilting lessons and attending quilting shows. Thelma was a gifted seamstress, passionate about creating many beautiful garments and crafts, as well. She had more fabric and sewing supplies in her home than the stores she so graciously purchased them from. :)

Thelma acquired many nicknames and versions of grandma over the years. She was most well known by her family and friends as "Thel." Her grandchildren called her "Grammer, ""grandmother," "Mana," and "Grandma." To all of her children and grandchildren, she was known as the "Grammar Police." Thelma loved the English language was determined to make sure it was used properly by all she knew, and occasionally even a complete stranger! :)

Thelma's love for the Lord was evident in everything she did. She was a faithful member of Clear Lake Church of Christ for many years. She loved her family fiercely, and would protect them to no end. Her husband, Rudy, suffered many health issues over the 44 years they were married and later in life required Thelma to become his caregiver for over 15 years. She spent every moment of her day making sure he had everything he needed, until he stepped into the arms of Jesus in October 2010 at the age of 83.

Thelma is also preceded by death by her sisters Mildred Spicer, Blanche Hershey, her brother Pitman Buck, Jr, her daughter Judith Mae Horn and her stepson Monty Williams. She is survived by her loving family; son, Jack D. Horn, Jr. (Candice), stepson, Michael U. Williams (Casey), daughter, Lisa McCorquodale (Donny), as well as her sisters Elsie Hendrickson and Maudelle Stephens. Thelma was greatly loved by her twelve grandchildren, Alayne Hergert and Melinda Hergert, DVM (Iain Crichton), Mollie Richardson, Austin and Natalie Williams (Aljeff), Jerrett (Rachel), Nathan, Allison and Daniel Horn, Kaley and Zachary McCorquodale, and Michael U. Williams, Jr,. She was also a proud great grandmother of Michael and Mason Richardson, Chett, Everett and Brantt Horn, Jena, Justin and Jami Williams. She is loved and survived by numerous nieces and nephews, extended family members, and many caring friends.

Thelma's Celebration of Life will be held at Forest Park East Funeral Home, 21620 Gulf Freeway, Webster, Texas 77598 on Tuesday, October the 5th. Visitation begins at 1 pm, followed by a Celebration of Life service at 2 pm, officiated by Pastor Byron Fike of Clear Lake Church of Christ. A reception will be held at the funeral home after the graveside service.
LINKS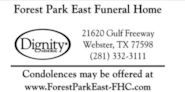 Forest Park East Funeral Home
http://www.dignitymemorial.com

Galveston County Daily News
https://www.galvnews.com
Houston Chronicle
http://www.houstonchronicle.com