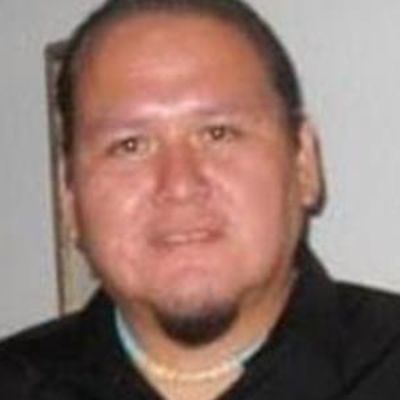 Tennyson
Daniel
Reid
What do you remember about Tennyson? Share your stories and photos here, and invite others to come share their memories.
Tennyson Daniel Reid age 50 of Anadarko, OK traveled on his journey home on June 1st , 2022

surrounded by his daughter and family. Tennyson was born to Albert Reid and Marilyn

Yeahquo-Reid in Lawton, Ok August 12,1971. His maternal grandparents were Mary and

Maurice Yeahquo, and his paternal grandparents were Vivian BringingGood Salazar and Edward

"Eddie" Lara. His maternal Great-grandparents were Edward Yeahquo and May Quoetone &

Samuel Toppah and Julia Tainpeah. His paternal great-grandparents were Luther BringingGood ,

Mary Washee BringingGood & Diana Lara and Rufus Lara.

Tennyson was a direct descendent of Guipago (Old Chief Lonewolf) and Chief Red Cloud of the

Ogalala Lakota, Tanedooah/Tainpeah family and Samuel Toppah-Yellowhair. Tennyson was

given his great-grandfather Edward Yeahquo's Kiowa name, 'Tiendle,' which mean "Big White."

Tennyson loved to be with his grandpa Maurice Yeahquo and they would often go cruise and

visit people. Tennyson still did that as much as he could til the end. He loved to go for a cruise

and listen to music.

Tennyson attended Carnegie Schools where played sports and was in the band. Later him and

his family moved to Coweta, Ok where he also played football and graduated in 1989. There

Tennyson made many lifelong friends and brothers. Those friendships meant the world to him,

one thing about "T" is once he loved you, he was forever loyal. After that Tennyson left to

attend Haskell Indian Nations University and he also attended The University of Tulsa for one

semester where he took a printmaking course, this was his introduction to the printmaking

process.

He then left for Santa Fe, NM where he attended The Institute of American Indian Arts in 1994,

there Tennyson earned his associate degree in Museum Studies. He then returned back to IAIA

in 2000 and continued his education and left with a bachelor's degree in Museum Studies.

Tennyson began developing a unique technique to his art from in woodcuts. Tennyson's

techniques evolved from traditional woodcutting to more contemporary style. Tennyson made

it his own. He chose to focus his artwork on plains Indian warriors whose images that show

pride and dignity of these warriors.

In 1995 Tennyson interned at the Philbrook Museum of Art in Tulsa, Oklahoma working in the

exhibits department. After that he completed a second internship at the National Museum of

the American Indian-Smithsonian Institution in New York and Washington DC. During that time,

he met a beautiful woman name Christine and they had a daughter named Autumn Angel Reid.

That truly made him love New Mexico even more because that's where is heart was.

Later Tennyson created a clothing brand Outlaw Indian wear that allowed him to share ad

display his art everywhere. Tennyson had many artist friends that shared their talents with him

and that allowed him to grow as an artist. Tennyson was also a member of the Kiowa Gourd

Clan since 1996. He took pride in being a member and was always there to help when needed.

WE all know Tennyson would never say no to being there and helping any way he could. If he

couldn't he would find a way!

Later in life Tennyson settled down in Anadarko, Ok to help his brother raise his three

daughters, Alysen, Lilly, and Lauren Reid. Tennyson spent the last of his days in Anadarko, OK

working on new projects such as sculpture and other artistic things. We are thankful as a family

to have so much of his art around to keep his memory alive.

Tennyson is survived by one daughter Autumn Angel Reid 26 of Taos, New Mexico. Three

sisters, Stephanie Taylor of Tulsa Ok, Danielle Reid of Anadarko, and Dana Lonewolf of

Anadarko. One brother Albert BringingGood of Anadarko. His nieces Alysen Nellie of Phoenix,

AZ, Lilly Reid, Lauren Reid and Ariana Barnett of Tulsa, Ok.

He is proceeded in death by his mother Marilyn Reid, brother Jeremy Reid.
LINKS
Ray and Martha Funeral Home - Hobart

Lawton Constitution
http://www.lawton-constitution.com