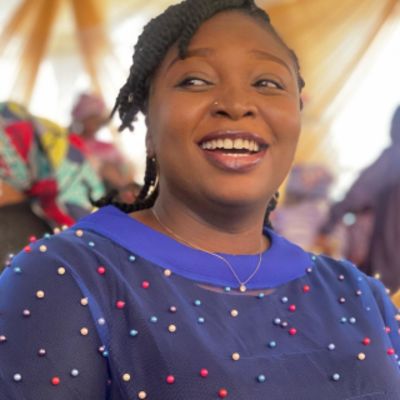 Temitope
Victoria
Olubude
"In loving memory of Temitope Victoria Olubude: A devout and caring soul, dedicated to faith, education, and making a positive impact. 🙏💕
Temitope Victoria Olubude, affectionately known as Tope, was born on February 8, 1991, in Kaduna, Nigeria. She was a remarkable individual with a passion for learning, a deep devotion to her faith, and a heart full of love for others.

Tope's educational journey began at Adeyemo College of Art and Science, where she completed her high school education in 2006. She continued her pursuit of knowledge at Nuhu Bamali Polytechnic, earning a Higher National Diploma (HND). Determined to further her academic horizons, she embarked on a new adventure and obtained her degree in Computer Science from Houdegbe North American University in Benin Republic in 2015.

Her unwavering faith was a cornerstone of her life. Tope was baptized at St. Andrew Catholic Church in Ugbighoko, Benin City, and she remained an active member of the church community. Known for her strong spiritual convictions, Tope was deeply involved in her faith, serving as a Lay Reader. Additionally, she held prominent roles within the SMA Youth Nigeria South, contributing her time and efforts as both the South Regional Deputy Coordinator and Nigeria South Regional Coordinator.

In the professional sphere, Tope demonstrated exceptional leadership and organizational skills. She served as an Assistant Project Manager at VIISAUS, Nigeria, where her dedication and expertise were highly valued. Her passion for research and content management led her to work as a Content Research Manager at EdQuest Nigeria. Furthermore, she contributed her talents as a Social Media Manager at Rift Valley Grill, and for various establishments as a freelancer where her creativity and communication skills flourished.

Throughout her life, Tope found joy in simple pleasures. Singing and reading were among her favorite hobbies, offering her solace and moments of reflection.

Tope's deep devotion to her faith and her love for people defined her life's purpose. Her favorite saint, St. Therese of Lisieux, embodied the essence of her compassionate and caring nature. Tope's gentle spirit and loving demeanor endeared her to all who had the privilege of knowing her.

It is with profound sadness that we announce Tope's passing on Sunday, July 30th, 2023. Though she may no longer walk beside us, her spirit and legacy will live on in the hearts of those she touched.

We remember Tope with gratitude and cherish the memories she shared with us. Her life serves as an inspiration to all, reminding us to embrace faith, love, and compassion in all that we do.

May she rest in eternal peace.
LINKS
Facebook Page
https://www.facebook.com/temzees