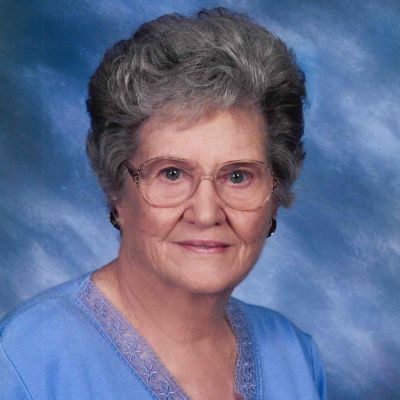 Sylvia Viola (Witt)
Rivas
Did you know Sylvia Viola (Witt)? Please share your stories and photos, and help spread the word about this page!
Funeral service for Sylvia Viola (Witt) Rivas, age 96, of Blanchard, formerly of Manitou and Lawton, will be held at 2 p.m. Tuesday, Feb. 22, 2022, at Liberty Heights Chapel in Lawton with Pastor Kerry Malakosky officiating.

Burial will be 10 a.m., Wednesday, Feb. 23, 2022, at the Fort Sill National Cemetery under the direction of Orr Gray Gish Funeral Home, Frederick.

Our sweet Sylvia passed from this life to the arms of her Savior and her Louis on the Feb. 18, 2022.

She was born to Beulah(Garrett) Witt and Robert Mitchell Witt on the Sept. 27, 1925, in Jefferson County near the town of Sugden. She had one brother Aubrey, who predeceased her in September 1963. She was born into extreme poverty. Her mother passed away at age 39 when she was six years old. A victim of hunger and lack of medical care. Her father was 62 years old when Beulah passed to Heaven and because of his inability to care for Sylvia and her brother after the funeral service for her mother they were given to her half sister and husband, Floyd and Josie Roark of Manitou. The two finished their growing up years on the farm west of Manitou. Josie and Floyd gave Sylvia and Aubrey a good life , schooling and a sense of security and love. Sylvia developed a positive attitude and love of people especially children. Sylvia ( Sip, Louis' nickname for his girl) found love while visiting her cousin Mattie Garrett , in Chickasha. She met a young Indian boy named Louis Rivas at an outdoor skating rink on Grand Avenue. Dad used to say when I saw your mom I told my brother who was with me "I'm going to marry that blond "the first time he saw her. The feeling was mutual and shortly after WWII broke out Sip traveled from Manitou to Gulfport , Mississippi, where they were married on June 5, 1943. When Louis returned from the war they had two children, Cheryl and Ryland . Sip lived through one more war when her Louis went to Korea with the 45th Infantry Division as a combat infantryman. The couple worked hard and made a success out of life . Sylvia became a successful beautician and instructor. After the children were grown they moved from their home in Lawton to the farm in Manitou. She established a beauty shop and continued to give instruction at Eves Beauty School in Lawton. She was a faithful wife and Christian and played piano at the first Baptist Church in Manitou for years . She loved to play the piano and sing. Later in life the couple moved back to Lawton. After her Louis passed to Heaven she moved to Blanchard to live with her son. She passed away in his home surrounded by people who loved her. People who knew her will remember her as one of the sweetest, honest, loving, people to ever grace this earth. We will miss you Mom but know you are happy to be with the good Lord and your loved ones who were waiting on you.

She leaves surviving her, her daughter, Cheryl and son, Ryland; grandchildren: Brian, Brandon, Ryland II, and Meredith and great-grandchildren: Heather, Jordan, Ryland David, Tennessee, Benton, Madison, Emily, McKenzie, Samuel , Garrett and many loving cousins.
LINKS
ORR GRAY GISH FUNERAL HOME

Lawton Constitution
http://www.lawton-constitution.com