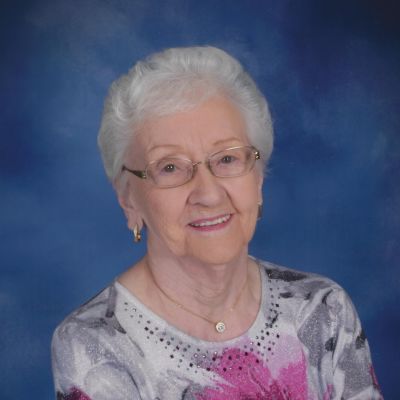 Sylvia
Smart
Kallgren
What do you remember about Sylvia? Share your stories and photos here, and invite others to come share their memories.
Sylvia Smart Kallgren, 92, died peacefully on Tuesday, October 13, 2020, at her home in Zephyrhills, Florida, in the loving company of her daughters and in the thoughts of family and friends near and far.

She was born August 16, 1928, in Dexter, Maine, to Howard and Glenys (Wharff) Smart. She graduated from Guilford High School in 1947, and attended Skowhegan Commercial School, leaving school to begin her career as a secretary and bookkeeper.

She met the love of her life, Blaine Kallgren, in 8th grade when she spied him tending to the fruits and vegetables in his parents' grocery store. They dated off and on throughout high school, were married February 17, 1952, and left for their honeymoon in a horrendous snowstorm which seemed to revisit them on many anniversaries through the years. They spent the first 24 years of their marriage in the Air Force and Blaine always said she was the best military wife there ever could be. They made life-long friends at every stop and when they both retired in 1981, they traveled the country for three years, visiting those many friends as well as family. They made stops in 49 states - she didn't complete the full 50-state set until a Lady Shrine trip to Alaska in 2006. They settled in Zephyrhills, Florida, where she worked first as an employee at Florida Hospital Zephyrhills and then as a volunteer running the gift shop. She was recognized in 2016 for a record 33,000 hours - the equivalent of more than 15 years of 40-hour volunteer work weeks.

Volunteerism and community involvement have been an enormous part of Sylvia's life, she touched the lives of many people and will be greatly missed. She was a Life Member of the Almeda Chapter No. 149 Order of the Eastern Star, Maine; a member and Recorder (until just this month) and past high priestess of Cairo Court #97 Ladies Oriental Shrine, Zephyrhills, Florida; and a member of the First United Methodist Church of Zephyrhills. Always busy, never still, Sylvia loved to knit and donated many of her creations over the years.

She is survived by her daughters, Karen Payne and her husband Charles Fuqua of Lake Placid (FL), Cheryl Boland and her husband Greg of Punta Gorda (FL), and her son David Kallgren and his wife Annette of Rochester (NH); grandchildren, Rob Weston and wife Lisa, Dagney Weston, Jacob Kallgren, and Megan Kallgren; great-granddaughters, Viola Calverley and Willow Weston; sister-in-law and life-long friend, Marion Kallgren of Abbott Village, Maine, and many much-loved family members and friends. Sylvia was predeceased by her loving husband of 61 years and five younger siblings.

A celebration of her life will be held at a later date. The family wishes to thank the ever-caring healthcare providers at Gulfside Regional Hospice who made it possible for Sylvia to remain at home during her final days. Those who wish are invited to make memorials in her name to Cairo Court #97 Ladies Oriental Shrine, P. O. Box 465, Zephyrhills, FL 33539, or to Gulfside Regional Hospice, 6117 Trouble Creek Road, New Port Richey, FL 34653 or online at www.grhospice.org/giving.
LINKS
National Cremation and Burial Society
https://www.nationalcremation.com
Bangor Daily News
http://bangordailynews.com