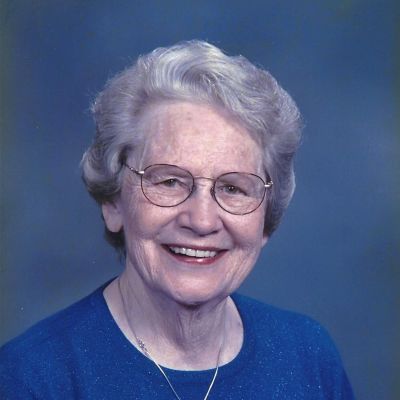 Sylvia
Ingram Eagle
Did you know Sylvia? Please share your stories and photos, and help spread the word about this page!
Sylvia Ingram Eagle, aged 98, of Charlotte, NC passed away on August 3, 2022. Mrs. Eagle was the daughter of Rev. Jesse L. Ingram, Sr. and Mabel L. Jones. She was born in Thomasville, NC on October 20, 1923. She was preceded in death by her father and mother, her brother, Lyndon, and her sister, Nancy. Mrs. Eagle is survived by her son, Robert L. Eagle, her daughter, Diane E. Kibler and husband John, her nieces, Sandra Workman and Nanette Moorer, her grandchildren, Jeffrey C. Eagle and wife Julie, Lisa E. Robinson and husband David, Mark D. Eagle and wife Jen, and Stephanie K. Shepard and husband Lee. She also had 11 great grandchildren: Sam, Xander, Luke, Emma, Griffin, Jake, Owen, Noah, Eli, Ali, and Lyla.

Mrs. Eagle's father was a Methodist minister. In 1925 his first appointment was the Warrensville Charge consisting of 7 churches in the mountains of NC. Through the years the Ingram family maintained many friendships in this area of NC and visited former parishioners every summer. She and her family lived in many locations in Western North Carolina.

Mrs. Eagle's love of music started as a very young child. She learned to play the piano at a very young age and began playing for church services when she was 10 years old. As a young adult she held several organist/choir director positions in churches in the Charlotte area. She loved all types of music, but church music was her favorite.

During World War II she worked at the munitions plant in Charlotte. She also had several other work experiences in the Charlotte area, but it was in 1950 that she found her true calling as she began caring for children in her home. She started with just 3 children, her daughter, Diane, another 3-year-old playmate from the neighborhood, and her six-year-old son, Bobby. Technically, Bobby was also her first after-schooler. Word quickly spread that she was keeping children in her home, and she had a lot of demand. She hired her first employee in 1951, and soon after, the need was so great, the Eagles added a room to their home and converted 2 downstairs bedrooms into classrooms to accommodate the growth. In 1955 that same family home was converted into a day care center, located at the corner of Commonwealth Avenue and Westover Street. This was the start of Kiddie Korner Day Schools, Inc. By 1999 when the business was sold, there were 9 locations, 228 employees, and served approximately 1200 children each week.

During the 1950's and 1960's there was no licensing law, but a center could acquire a voluntary license from the NC Department of Social Services. Mrs. Eagle's center(s) were licensed from day 1. Beginning in 1961 Mrs. Eagle began making many trips to Raleigh to speak with individual Senators and Representatives and before decision making committees of the NC Legislature to get a mandatory licensing law passed. It was about this time she helped start the NC Day Care Association (NCDCA) and was its first President. She also helped start the Charlotte-Mecklenburg Day Care Association (CMDCA)and was its first President. After 10 years of perseverance, the first licensing law was passed in 1971. She continued working to improve licensing standards, and she was a lifelong advocate for children.

Education was always important to Mrs. Eagle. She worked with NCDCA and CMCDA to offer training workshops for childcare professionals. She provided college credit classes through CPCC to her own staff. In honor of her commitment to Early Childhood Education, in 2018 her children created the Sylvia Ingram Eagle Early Childhood Scholarship at Central Piedmont Community College. The first 5 "Eagle" scholars were presented at a recognition ceremony in July of 2018. In the fall of 2022 there will be 25 "Eagle" scholars.

When Mrs. Eagle finally retired in her 80's, she split time between Charlotte and her beloved mountains of Ashe County. For many years, she would spend half of the year at her mountain house in West Jefferson, NC, otherwise known as her "Heavenly Haven." In addition to reconnecting and spending time with childhood friends over quilts, coffee, and sausage biscuits, she continued to play the music she loved in the churches where her father preached, and Warrensville United Methodist was one such special church.

Mrs. Eagle joined First United Methodist Church of Charlotte (FUMC) in 1965 and remained a faithful member until her death. She was a woman of tremendous faith who showered family, friends, and strangers alike with kindness and love. She was a trailblazer, entrepreneur, philanthropist, and musician. She was also a loving mother, grandmother, great-grandmother, aunt, and friend. She always had a warm smile, a kind word, and a twinkle in her eyes. One only had to be in her presence for a few minutes to realize she was a very special lady. Her life and legacy will always inspire, and her faith and love will never fade.

A" Celebration of Life" service for Mrs. Eagle will be held at First United Methodist Church, 501 N. Tryon Street, Charlotte, NC., on September 10, 2022, at 2:00 PM. A reception will follow the service in the fellowship hall of the church.

If you plan to attend the Memorial Service, there is Free Event parking in the Church Parking Deck accessed at 163 W 9th Street. You may park in any unreserved space and take the Sanctuary Elevator to Level "S".

In lieu of flowers, donations can be made to the Stained-Glass Renovation Fund of FUMC, 501 N. Tryon Street, Charlotte, NC 28202. The online link for First Methodist is: Charlottefirst.org/contribute or to Central Piedmont Community College Foundation, Sylvia Ingram Eagle Early Childhood Scholarship, PO Box 35009, Charlotte, NC 28235 or online at www.cpccfoundation.org/donation. Condolences may be left for the family at www.McEwenFS.com.
LINKS

McEwen Funeral Service at Sharon Memorial Park
Ashe Post and Times
https://ashepostandtimes.com