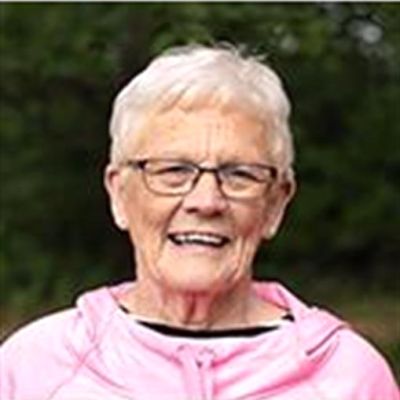 Susan
Ann
Hutton
Help us celebrate Susan! Please share your stories and photos, and invite others who remember Susan.
I have lived a simple, but beautiful life. I was born in Council Bluffs on February 14, 1939, and my parents, Cleo (Al) and Ruth Robey, and my brother Doug loved and supported me through every up and occasional down of my life. My dad was quiet, smart, and loving, and he provided us with a great home. My mom always said I was his sweetheart - and not just on Valentine's Day! My mom was under 5 feet tall, but was always the biggest personality in the room. She filled our home with energy and love. Doug was a few years older than me, but when we started our own families, we grew to be very close. Doug, his wife Ann, and their five kids always made "Aunt Susie" and my kids feel at home when we visited them in Omaha.

I met a handsome boy named Tom at Iowa State Teachers College where I earned my teaching certificate. We married in 1960 and moved to Marshalltown. I left my job teaching second grade in Eldora for the best job I ever had...being a mom. Craig was born in 1961, a year later Bruce was born, Brian a year after that, and Brent a year and a half after that. My boys and I spent a lot of time in the bleachers in the Elk Horn gym where Tom taught and coached girls' basketball. My boys always wished for a sister when breaking wishbones, and in 1971 their wishes came true when Jill was born.

It was a lot of work feeding them, getting them ready for school and to all their activities, and breaking up the "occasional" fight, all while also working at Sunshine Preschool. I spent a lot more time in the bleachers watching them at football, basketball, and softball games, and listening to them at band and vocal concerts. But like I said, it was the best job I ever had.

My family grew quickly when my kids found the beautiful women who became my daughters-in-law and had kids of their own. Craig and Brenda (Bock) have five kids, Bruce and Dena (Heneke) have two boys, Brian and his first wife, Sue (Witt), have 3 kids, and Brian and Becky (Ince) have a girl. Brent and Shelly (Beauchamp) have two kids, and Jill has two girls. I adore my 5 great-grandkids and love that my kids stayed close to home so I can see everyone so often. Plus, I got to spend even more time in the bleachers, cheering on my grandkids. Susie (Witt) Hutton has kept in touch and I always enjoyed her visits and calls. I'm so happy that Jill found David Neuman, who I consider part of my family.

I've been so lucky to make close friends that filled my life with memories. Playing "crack the whip" with childhood friends on the ice-skating rink near my home in Council Bluffs. Singing in the girl's pep club at Abraham Lincoln High School. Clowning around on the college campus. Laughing (loudly) around the table with the great friends I made when living in Elk Horn and stayed close with after we all moved away.

I taught at Sunshine Preschool for 35 years and remain friends with the amazing ladies who worked there. We shared a lot of laughs and a few crazy times behind the scenes. (Ask them about the goat story.) Know that I care for each of you deeply and cherish your friendship. Many of the Sunshine kids I taught are now friends who give me a hug and call me Grandma Sue. I made a lot of fantastic new friends working at Walmart for 29 years. They kept me young and entertained. Plus, I got to see everyone in town...because everyone shops at Walmart!

In the end, Pancreatic cancer played the bad guy, and unlike in fairy tales, the heroine couldn't be rescued. I appreciated all the cards, phone calls, visits and well wishes as I struggled with my illness. I'm sorry if I wasn't great company towards the end, but you brightened even my darkest days and helped me remember better times.

In lieu of flowers, please do whatever you can to make a child's day better. Volunteer at a local school or daycare. Hug your kids or call them and tell them you love them. Read a book to your grandkids. Donate to a charity that helps children get a better education, meals, or clothes. When you see my kids, please share a story they might not have heard. And plant some bubble gum petunias to brighten your home and think about me every time you water them.

Visitation will be held on Monday, April 26, 2021, from 4 p.m.-7 p.m. at Carson Celebration of Life Center in Maquoketa, Iowa. Burial will be on Tuesday, April 27 11:00 a.m. at Mt. Hope Cemetery in Maquoketa.

Face masks will be required. Please follow social distancing guidelines during the visitation and burial services.
LINKS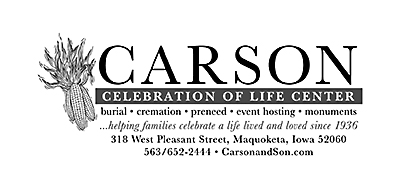 Carson Celebration of Life Center

Telegraph Herald
http://www.thonline.com
Memories
Looks like something went wrong.
Reload the page and try again.