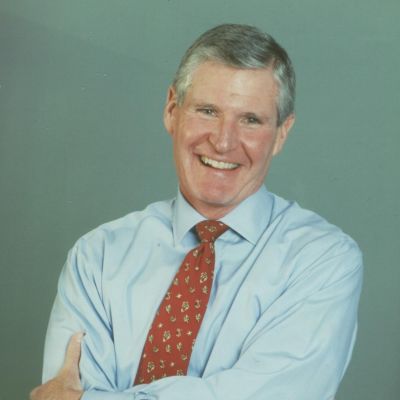 Stuart Edward
Graham
Did you know Stuart Edward? Please share your stories and photos, and help spread the word about this page!
A beloved family man and respected business leader, Stuart died peacefully at age 76 on June 23rd, 2022.

He leaves behind a lasting legacy of inspired and inspiring leadership globally and within his smaller community.

Born to Stuart Graham and Ruth Hourigan in Kingston, PA, he was the eldest of 5 children. He graduated from Cranwell Prep School in Lenox, MA and went on to matriculate at the College of the Holy Cross in Worcester, MA.

He began his career as an assistant field superintendent for Sordoni Construction Co. in Forty Fort, PA and rose to become CEO, and Chairman of the Board of Swedish conglomerate Skanska AB.....the first non-Swede to head that giant Swedish company.

He was chairman of the Engineering and Construction Governors Council of the World Economic forum at Davos, founder of the Engineering and Construction Risk Institute and he was a board member of Securitas AB, PPL Corporation, Harsco Corp., Industrivardan AB., Brand Energy and Industrial Services, and Chairman of Talen Energy Corp.

Stuart was Chairman of the New York Building Congress in 2009 and 2010 and the Congress prospered under his tutelage. He served on many corporate, charity and club boards including The Daisy Hope Center in Vero Beach, Fl. and the Johns Island Club in Vero Beach, Fl.. He was a member of YPO/WPO, and from he served on the Board of Trustees of his beloved Holy Cross College for several years.

In 2007 while living in Stockholm with his wife, he was awarded an honorary Doctors degree from the Czech Technical University in Prague.

Well known for his no-nonsense, common sense approach to managing a company as large and complex as Skanska, those who benefitted from his outstanding leadership style note his emphasis on strong values and a winning mindset. Most importantly he encouraged others to develop those leadership skills and always mentored others. He had an innate sense of how to improve one's strategy when faced with a challenge and never quit til a solution was created.

Stuart's Jesuit education centered on lofty Christian values which he espoused and discipline was key to his life and all his endeavors. He admired and respected the work ethic and focus on excellence of his educators, and he tried mightily to always live up to those standards.

Stuart had legendary persistence and dedication to a task at hand be it golf, a workout at the gym, or his continuing work with various charities. Known for his quick wit and flashing smile, Stuart was devoted to his family, a mentor to many and a friend to all.

He is survived by his wife of 52 years, Kathryn Graham Graham, his children Cameron, Stuart (Siobhan) and Devon Hammonds (Jason). He has 6 beloved grandchildren he adored: Abigail, Stuart IV, Evelyn, James, Rhett and Eve. He leaves behind his wonderful brother John and his cherished sister Carolyn McLaughlin-Smith, treasured in- laws Elizabeth Cook, Tom and Drusilla Graham,Renee and Vince Gallagher, Chris and Skip Coale,Tom Conaghan, Patricia Graham and Dave McLaughlin-Smith, and 16 loved nieces and nephews.

In lieu of flowers, contributions may be made to the Stuart E. Graham Scholarship Fund at the College of the Holy Cross in Worcester, MA..
LINKS
Leo P. Gallagher & Son Funeral Home
http://www.leopgallaghergreenwich.com

Dow Jones/Wall Street Journal
https://www.dowjones.com