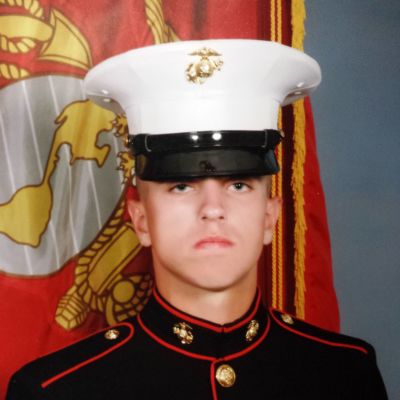 Steven
Wayne
Shanks-Aney
Once a Marine always Marine
LCPL Steven Wayne Shanks Aney, 20, passed away on April 16, 2014 in Spring Valley, CA. Steven was born on November 27, 1993 in Sacramento, CA, to Charles F Aney Jr and Pamela Thomson.

Steven grew up in North Highlands, CA. He graduated from Highlands High School in North Highlands, CA. in 2011. Immediately after graduating high school he joined the United States Marine Corp.• Participated in the ROTC program for 4 years at Highlands High School in North Highlands, CA.

• Joined the Marines in 2011 and served for 3 year until his untimely death. Steven was a PFC and within 2 ½ years advanced to LCPL.

• Steven married Serena on July 10, 2013 in San Diego, CA.

• He enjoyed Traveling to Japan and seeing the different culture. He loved Skeet shooting, Motorcycling, his puppy Dallas as well as his childhood dogs Cinnamon and Spike. He loved spending time with family and friends as often as he could. He enjoyed the outdoors, camping, his family, friends and absolutely loved life. Above all loved to make people laugh!!!Steven was preceded in death by his uncle QMC Dallas Hatzi.

Steven is survived by his spouse Serena of Sacramento CA. His parents Charles Aney and and Pamela Thomson. Siblings: Latisha, Krista, Jessica, Nicole, Jeremy, and Melissa. His Grandparents, Uncles, Aunts, nieces and nephews and cousins.