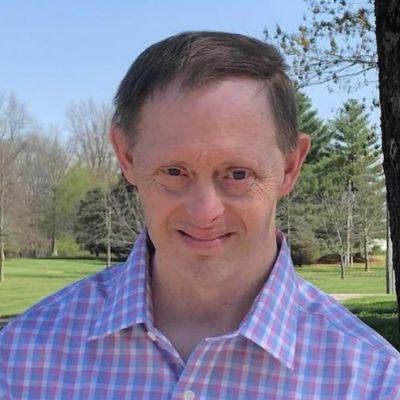 Steven
Lance
Cunningham
Did you know Steven? Please share your stories and photos, and help spread the word about this page!
One of the most beautiful souls the Lord blessed us with went to be with him Friday, November 11, 2022. Steven Lance Cunningham, age 53 of Bridgeport, was born April 14, 1969, the first-born child of Charles Steven Cunningham and his wife Judith Lynn (Devonshire) Cunningham.

Lance started school at a very young age. He was so little he had to be lifted onto the bus. He was blessed with truly caring teachers throughout his education. He was able to graduate in 1990 from Red Hill High School which he was very proud of. Lance was very active in Special Olympics as he grew up...especially bowling, basketball, and track. Lance helped his family at Cunningham Funeral Home by sweeping and setting up for services. He took pride in his work.

Red Hill athletics was a favorite activity for Lance. He especially loved anything his siblings were playing. He spent many games in the same seat at the Red Hill High School gymnasium sitting along-side his Grandma Reba watching Saluki basketball and taking "stats".

Lance was the hug-master. At church on Sunday mornings, he made his rounds and gave out hugs. He enjoyed his church family. His hugs will be missed by many.

He also enjoyed St. Louis Cardinals baseball games, razzing anyone he could, the Golden Girls, county music, antiquing and auctioning with Grandma Reba, making birthday and anniversary cards (Lancemark Cards), and being a "handsome man."

Lance was the epitome of love. To know him was to love him.

Surviving family includes: his father- Steve Cunningham of Bridgeport: his siblings- Mandy Wilsey and husband Gary of Evansville, IN; Meri Martha Smith and husband Henry of Princeton, IN; Melinda Young and husband Jason of Bridgeport; and Tom Cunningham of Bridgeport: his seven nephews and one niece- Brock Wilsey, Brant Wilsey, Kane Wilsey, RJ Smith, JT Smith, JL Smith, Kamryn Young, and Baron Young.

He was preceded in death by: his mother- Judy Cunningham: one sister in infancy- Melissa Jayne Cunningham: paternal grandparents- Charles "Red" and Reba Cunningham: maternal grandparents- Meredith and Wanda Devonshire: his special great aunt and great uncle- Ruby and Dick Smith: and his uncle- Jerry Devonshire.

Funeral services were held at 11:00 a.m. on Tuesday, November 15, 2022, at the Cunningham Funeral Home in Bridgeport. Visitation was Monday evening from 4:00 p.m. until 8:00 p.m. at the funeral home. Burial followed services at Bridgeport City Cemetery.

Memorial contributions can be made to New Hope Christian Church directly or through the funeral home. Online condolences can be sent to the family at www.cunninghamfuneralhomes.com.
LINKS
Cunningham Funeral Home
http://www.cunninghamfuneralhomes.com

Daily Record - Lawrenceville
http://www.lawdailyrecord.com