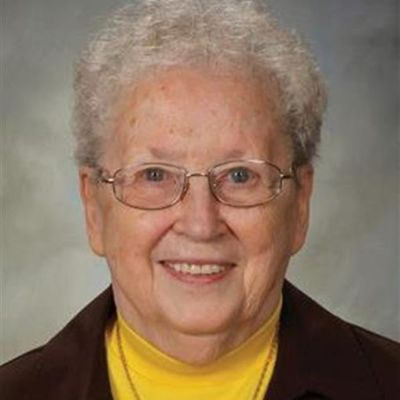 Sister Bernadette Marie
Schvach, BVM
Help us celebrate Sister Bernadette Marie! Please share your stories and photos, and invite others who remember Sister Bernadette Marie.
Sister Bernadette Marie Schvach, BVM, (David Ann), 92, of Mount Carmel Bluffs, 1160 Carmel Drive, Dubuque, Iowa, died Thursday, Nov. 10, 2022.

Visitation will be from 9-9:30 a.m. on Thursday, Nov. 17, 2022, in the Mary Frances Clarke Chapel at Mount Carmel Bluffs. Sharing of Memories will be at 9:30 a.m., followed immediately by the Mass of Christian Burial. Burial is in the Mount Carmel Cemetery.

Sister Bernadette was an elementary teacher in Des Moines, Iowa; Chicago; Berwyn, Ill.; Boulder, Colo.; and Kauai, Hawaii, where she also served as principal.

She was born on May 1, 1930, in Chicago to Joseph and Mary (Zemanek) Schvach. She entered the BVM congregation Sept. 8, 1948, from St. Frances of Rome Parish, Cicero, Ill. She professed first vows on March 19, 1951, and final vows on Aug. 15, 1956.

She was preceded in death by her parents, brothers George and Joseph Schvach, and a sister Evelyn (George) Kostakis. She is survived by a niece, nephews, and the Sisters of Charity, BVM, with whom she shared life for 74 years.

Memorials may be given to Sisters of Charity, BVM, 1100 Carmel Drive, Dubuque, Iowa 52003 or online at https://www.bvmsisters.org/support_donate.cfm.

Behr's Funeral Home, 1491 Main St, Dubuque, Iowa 52001 is in charge of arrangements.
LINKS


Telegraph Herald
http://www.thonline.com