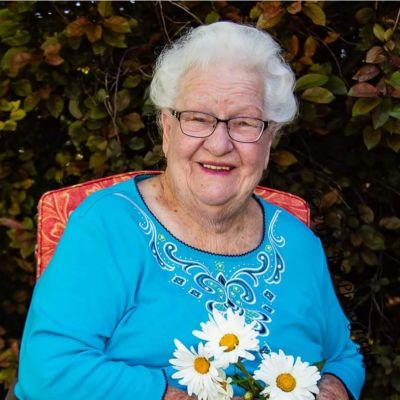 Shirley
Jane
Parsons Baker
How do you know Shirley? Please share your stories and photos, and help spread the word about this page!
Shirley Jane Marlow Parsons Baker passed away quietly in her sleep the morning of September 30, 2021, at Gem Village assisted living center. On July 14, 1926, she was the first born child of John and Jane Williams Marlow. She was soon joined by Marie, Lowell (died just after birth), John, and twins Jay and Joan.

She grew up on the family farm during The Great Depression, attended Wapello Elementary, Blackfoot Junior High, and Blackfoot High School; then when she was in her 30's, married, with four children at home, she earned a B.B.A. degree in accounting at Idaho State University.

She met Rex A. Parsons through mutual friends, fell in love, and married him in Fort Riley, Kansas, on October 2, 1943, where he had been serving in the Army during WWII. After his release, they moved back to Blackfoot, Idaho where they lived and raised four children, Marilyn, Rick, Terry, and Pat. She was a member of The Church of Jesus Christ of Latter-day Saints.

Shirley was always a hard worker. In the 50's and 60's she was a waitress at the Colonial Inn for 13 years before getting her accounting degree. After graduation, she went to work for Basic American for a short time before starting a ten year career as the bookkeeper for Rockford Lumber. After retirement, she kept the books for her husband Rex's Parsons Tile Company until shortly after his sudden death in 1979.

Back in 1972 they purchased 40 acres above Mackay, Idaho, along the Big Lost River on Bartlett Point Road. This place became the center of the Parsons' family gatherings from then until now and beyond. It has been the area of memories for five generations of descendants who value the time and activities spent there.

In 1982 Shirley met and married Fredrick Wilson (Doc) Baker, DVM, from Wisconsin and welcomed five step children: Dwight (Ali) Baker, Blackfoot; James (Diane) Baker, Lake Oswego, Oregon; Bruce (Karen) Baker, Oregon, WI; Beth Ann Baker and Carol Comeau, Eagle River, Alaska; and Robert Baker, Mesa, Arizona.

Doc and Shirley spent many years at the Parsons' ranch above Mackay during the summer, and then headed south every October to their winter home in Wickenburg, AZ. After Doc passed away in 2006, she decided to sell the Arizona place. She returned to her acreage on Highland Drive in Blackfoot where she had a house built and converted a piece of pasture into a beautiful yard and garden.

She always enjoyed gardening, reading, daily crossword puzzles, and rarely missed a football, basketball, tennis or golf production on TV. Her door was always open for family and visitors.

She is survived by her daughter Marilyn (Jerry) Petersen, Blackfoot; son Pat Parsons, Idaho Falls; 8 grandchildren, 18 great grandchildren, and numerous great, great grandchildren. Also surviving are her siblings: John (Cathy) Marlow, Tilghman Island, MD; Jay (Nadine) Marlow, Blackfoot, and Joan (Spencer) Belliston, Murray, UT.

She was preceded in death by both husbands, Rex and Doc, sons Richard Adrian Parsons and William Terry Parsons, her parents, her sister Marie (William Howell) Cornellison, and an infant brother, Lowell.

The family wishes to thank the caregivers at Gem Village for their 12 months of loving care and a special appreciation goes out to Chantell and Susan from Salmon Valley Hospice for their 24 hour availability for our mother. They were always in attendance with Mom during the many months they took care of her. Karla Adams was her physician for years, always checking on her with home visits before and during her time at Gem Village. Mom was loved by everyone who knew her--we will miss her forever.

She wished to be cremated and her ashes buried between her first husband, Rex, and her son, Rick. There will be a short graveside service on Saturday, October 9, 2021, at 11:00 AM at Grove City Cemetery under the direction of Hawker Funeral Home. Friends and loved ones that prefer to stay home can watch the service on a live broadcast. The service can be viewed at https://www.hawkerfuneralhome.com/page/broadcasting.

In lieuof flowers, Shirley would have been pleased to have donations made inher name to Salmon Valley Hospice, Blackfoot Branch, 1142 Ruth Ann Drive, Blackfoot, ID 83221.

Condolences can be made to the family at www.hawkerfuneralhome.com.
LINKS


Bingham County Chronicle
http://www.journalnet.com