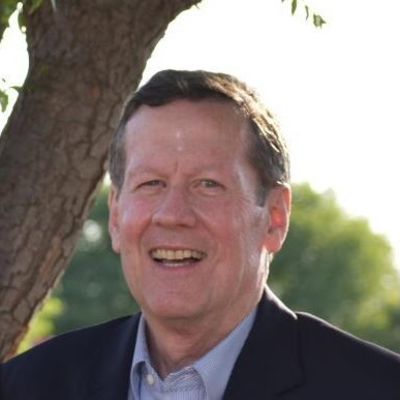 Samuel
William
Caverlee
Did you know Samuel? Please share your stories and photos, and help spread the word about this page!
Samuel William Caverlee passed away peacefully on Wednesday, September 29, 2021, from complications of Alzheimer's disease. His wife and best friend, Ellen, and his two sons, John and James, were by his side.

Sam was born on June 19, 1945, in Chicago, Illinois to Robert John and Constance McReynolds Caverlee and was the second of four brothers. Following his father's death when he was only 5, Sam moved with his mother and brothers to Monroe, Louisiana.

Sam was a 1963 graduate of Neville High School. While at Neville, he was the Student Body President, Mr. Neville and a member of the 1963 Neville State Championship basketball team. As Student Body President, Sam worked with the Monroe Zoo to have its live tiger, Shasta, attend school pep rallies. Other than Mike the Tiger, Shasta is believed to be the only live tiger mascot to serve any high school or college at any time in the country.

Sam would go on to attend and graduate from LSU, where he would meet his wife of over 54 years, Ellen Buchanan Gardner. They were married prior to Sam's enrollment at LSU Law School. Ellen worked as a French teacher at Baker Junior High School, putting Sam through LSU Law.

After graduation from LSU Law, Sam went to work for Johnston, Johnston & Thornton and then for Wilkinson, Carmody & Peatross. He finally found his work home at Cook, Yancey, King and Galloway, where he practiced law until his retirement in 2015, serving as Managing Partner for 10 years.

Sam was an accomplished trial lawyer, who, for many years, held the record for the fastest civil jury trial verdict in Caddo Parish. He was a Fellow of the American College of Trial Lawyers, was frequently named one of the Best Lawyers in America and in 2013 was named the Shreveport Defense Lawyer of the Year. The Shreveport Bar Association honored him in 2014 with a professionalism award and then SBA President, Larry Pettiette, noted that he held the opinion "that Sam Caverlee is Peter Pan. He never grows old and always believes."

Sam was an active member of First United Methodist Church of Shreveport, where he taught Sunday School Classes for many years and served many leadership roles in the church, including Chairman of the Board. He served communion at The Glen for homebound church members until recent years. He was a man of great faith.

Sam always had a smile on his face and was willing to help anyone, anywhere, and at any time. Sam's energy had no equal and his family often marveled at how he could work a room full of people, and turn those who did not know him into instant friends.

He enjoyed running and walking with groups of friends over the years, reading and attending book reviews, visiting local museums each month, taking Ruston peaches to friends and family, watching the Chicago Cubs and college basketball, especially his son James' alma mater, Duke University, and eating lunch and visiting with old friends. A highlight of his life was coaching his sons' basketball teams for many years.

Sam is survived by his wife, Ellen; his sons, John Gardner Caverlee (Amy) of Dallas, Texas, and Dr. James Buchanan Caverlee (Sherry) of College Station, Texas; his brothers, Robert John Caverlee (Margaret) of Dallas, Texas, James Borden Caverlee (Janis) of Marietta, Georgia, and William Joseph Caverlee of Monroe, Louisiana; and his brother-in-law, James Creswell Gardner Jr. (Sharon) of Shreveport, Louisiana. Sam was known as Sampa to his five grandchildren, William Brooks Caverlee, Thomas Gardner Caverlee, Luke William Caverlee, Eva Marin Caverlee and Zoe Kelley Caverlee. He loved all of his family, including his nieces Renee, Lauren and Megan, and his nephews Creswell, Michael, James, George and Robert. Among so many things, Sam's family will miss the many family trips they took to the beach and the Caverlee-Gardner family Thanksgiving he hosted each year.

A memorial service will be held at a later date.

Sam's family appreciates the love, concern and many acts of kindness shown by so many over the years.

In lieu of flowers, the family requests that memorials be made to First United Methodist Church of Shreveport, P.O. Box 1567, Shreveport, Louisiana 71165-1567 or The Bridge Alzheimer's and Dementia Resource Center, 851 Olive Street, Shreveport, Louisiana 71104, or the charity of one's choice.
LINKS
The News-Star
http://www.thenewsstar.com