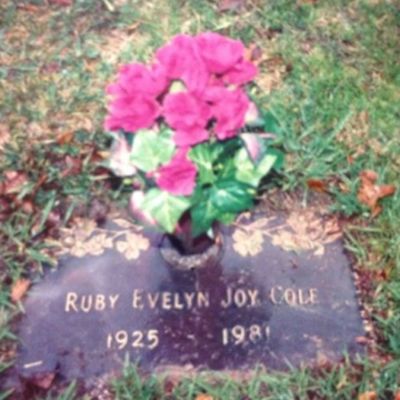 Ruby
Evelyn Joy
Cole
When you speak of her,speak not with tears, for thoughts of her should not be sad. Let memories of the times you shared give you comfort, for her life was rich because of you. Wherever a beautiful soul has been there is a trail of beautiful memories
Ruby Evelyn Joy Cole 1928-1981

Ruby grew up in Hardin Co,Sour Lake ,Tx with her parents James Brady Cole 1881-1945 and wife Rebecca Caroline Gallier Cole 1888-1962.

Ruby Cole is preceded in death by her parents,

Sister Gwendolyn Jewitt Cole Bauhof 1913-1965 ,

Sister Carra Castella Cole Hodges 1908-1981,

Sister Eleanor Ophelia ( Sharon) COLE LITTLE 1912-1938,

Brother James Thomas Cole 1916-1916,

Sister Nina Rebecca Cole Eakens 1917-1977,

Brother Henry Bascom Cole 1919-1956,

Thomas Jefferson Cole 1941-1941

Lloyd David Cole Sr 1923-2002

Thomas Jefferson Cole 1941-1941.

Ruby is survived by: Sister Dorothy Odene Cole Binford 1910-1983,Mary Magdalene Cole Leonard 1921-1996 ,James Brady Cole Jr 1919-1983,Faye Marie Cole 1928-2002 ,Lloyd David Cole 1923-2002, Harry Adrain Cole .

Her children. Beverly Ann Fletcher ( Wayne Grissom),Cynthia Elaine Fletcher(Billy Culberth, Myrl Travis Fletcher,Gaye Lynn Cone.

Please make sure to get checked often for ovarian cancer..There's no tell tell signs..