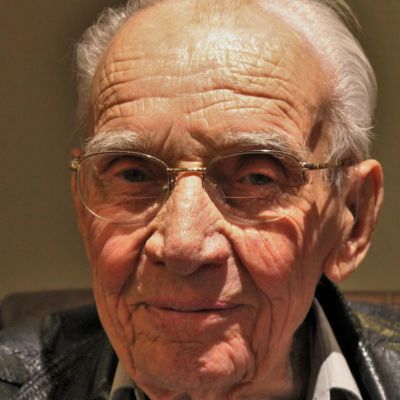 Roy
H.
Tunby, Sr.
Help us celebrate Roy! Please share your stories and photos, and invite others who remember Roy.
If you heard polka music on the wind the morning of Saturday, February 1st, you can be certain the gates of heaven had opened and Roy Tunby was dancing his way inside for his anticipated reunion with family and friends.

Roy Hieronymous Heyerdahl Tunby, a proud Norwegian, was born in Houghton, SD on February 12, 1921 to Helga (Nygaard) Tunby and Hieronymous (Rony) Tunby. He passed away just days shy of his 99th birthday. Roy was the oldest of 8 children. He moved to Montana in 1925 where the family homesteaded near Westmore, MT. He went to Dry Fork school, a one room schoolhouse, through the 8th grade, and then graduated from Baker High School. From there, like many men of that time, he joined the Marine Corp and was a radio operator and chief. He was part of the 4th Marine Division and served in the South Pacific seeing combat on the Marshall Islands, Saipan, and Tinian. He was honorably discharged in 1945. He was a proud Marine and for many years was the oldest living Marine in Bozeman. Roy met the love of his life, Marion Gail, at a YMCA dance in Denver, CO and they were married on October 1, 1949. They moved to Bozeman in 1958, had three children, and built their life in the Gallatin Valley. Roy worked for the FAA until his retirement, and then worked for the Electrical Engineering department at Montana State University until he retired for a second time.

Roy was a man of many talents. He loved to figure out how things worked. His love of electronics started at a young age when he ordered a $5.00 Crystal Radio set from a magazine with money that he got from selling a coyote pelt. He was a ham radio operator for many years and enjoyed talking to people from all over the world. He loved to tinker with cars and built a 1924 Model T from scratch, even sewing the upholstery himself. He was a member of the Antique Car Club and often drove his Model T in the Sweet Pea parade. He loved music and loved to dance the polka! He traveled to many dances and spent his 90th birthday dancing at a polka festival in Las Vegas with his brothers. He learned to play an accordion, and was especially proud of his spaghetti and meatballs that his Italian accordion instructor taught him to make. He was a hospice volunteer after his retirement, a member of the Optimist Club, and a longtime member of Hope Lutheran Church, where he sang in the choir.

He was preceded in death by his wife, Marion Tunby; brother, Gordon Tunby; and sisters, Helen Jensen, and Edith Johnson. Roy is survived by his children, Marcia (Ryan) McChesney, Roy (Mary) Tunby, Maureen Tunby; granddaughters, Paige and Reilly Tunby; brothers, Rolf Tunby, Maurice Tunby, and sisters, Elphie Wood and Marie Moe.

If you wish to make a donation in remembrance of Roy, please help us celebrate his love of cats, and all animals, by sending your donation to Heart of the Valley Animal Shelter, 1549 Cameron Bridge Rd, Bozeman, MT 59718.

A celebration of life will be held at Hope Lutheran Church, 2152 Graf Street, on February 29, 2020 at 11:00am.

Condolences and memories may be shared with the family at www.dahlcares.com.


LINKS
Dahl Funeral & Cremation Service
Fallon County Times
http://www.falloncountyextra.com

Bozeman Daily Chronicle
http://www.bozemandailychronicle.com