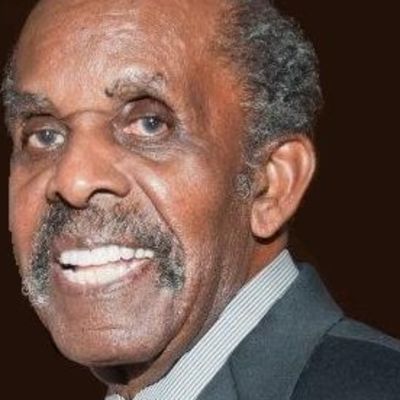 Roscoe
H.
Fanning
Join us in celebrating Roscoe—please share your stories and photos, and help spread the word about this page!
Roscoe "Rocky" Fanning passed away on Wednesday, December 8th, at home surrounded by his loving family. He was 99 years old, just one month shy of his 100th birthday. He was married to Dorothy (n?e Hadley) for 74 years and the proud father of three daughters, Pamela (Michael) Carter, Karen (Don) Rea-Williams, and Michelle (Paul) Harris. Rocky's blessings continued with the joyful births of his seven grandchildren, Michael Carter, Jr., Tiffany Rea-Fisher, Marcya Carter-Sheats, Christopher Harris, Elizabeth Harris, Andrew Harris, and Kathryn Harris, and five great-grandchildren, Michael Carter III, Juliana Sheats, Miles Carter, Kaiya Fisher, and Jamaal "Jack" Sheats II.

Rocky was born in Frankfort, Indiana, on January 13, 1922, the youngest of nine children to the Reverend Robert Fanning and Alvaretta (n?e Cummings) Fanning. In Rocky's own words, he wrote, "My mother and father made my life enjoyable. I got everything I ever wanted or needed, including going to the World's Fair in 1933. Church played a big role in all that we did. It was our refuge."

He attended Kiger Grade School, where his impressive intellect and poetry and writing skills were discovered and encouraged by one of his teachers. Rocky attended Frankfort High School, where he played the drums, sang, and was popular and enjoyed his high school years.

In 1942, Rocky enlisted in the United States Army Air Force on November 17, from Kalamazoo, Michigan, along with his best friend, Kenny Foster. They remained in the same unit for the entirety of their service. Rocky was part of the 329th Service Group, a segregated battalion also known as "The Global Plainsmen." This courageous group of young men led critical tactical initiatives, including munitions transport and tracking Rommel "the Desert Fox" across several countries. Rocky was honorably discharged December 29, 1945, as a highly decorated veteran and recipient of a Good Conduct Medal, a Ribbon and two Bronze Stars for the European-African-Middle Eastern Theater Campaign, a Ribbon and a Bronze Star for the Asiatic Pacific Theater Campaign, and a Victory Medal of World War II.

Rocky came home from the war, enrolled in Indiana University, and majored in Journalism. He also met Arthur (Teddy) Charles Hadley, and they became close friends for life. Little did Rocky know that Teddy's sister, Dorothy, would soon become the love of his life and his wife. Rocky and Dorothy married on July 25, 1947, and were together for 74 years.

Rocky built and owned the first home for his family in a segregated subdivision along with 100 other black men who built their homes and together a wonderful community making it the first of its kind in the nation and the first to have mortgages granted to black families in Indianapolis.

He founded Fanning Janitorial Service and, at its height, was responsible for several Catholic schools throughout the diocese, a chain of drug stores, and several office buildings.

Later, in 1991, as Director of Facilities for the state of Indiana, and upon his retirement, the Governor of Indiana presented him with the highest honor bestowed upon a citizen of the State of Indiana, The Sagamore of the Wabash award.

Rocky projected an impressive combination of dignity, empathy, and determination to do what was best for his family, often against incredible odds. He was a man of faith, a family man, a poet, a gentleman who respected order but would gladly swim against the tide and defy expectations.

A funeral service was held on Tuesday, December 21, 2021, at Crown Hill Funeral Home, 700 W. 38th Street, Indianapolis, IN 46208.
LINKS
Crown Hill Funeral Home & Cemetery
http://www.crownhill.org
The Times
http://www.ftimes.com