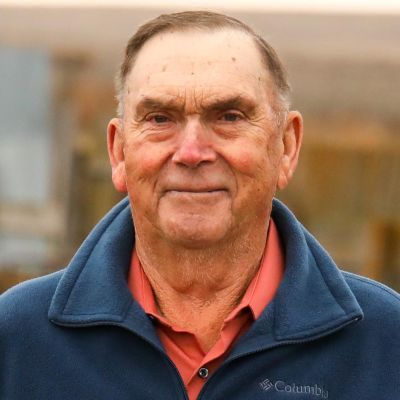 Ronnie
Kaup
What do you remember about Ronnie? Share your stories and photos here, and invite others to come share their memories.
Ronald "Ronnie" Frank Kaup, 78, Hoven, died Wednesday, December 23, 2020 at the Bowdle Hospital. Mass of Christian Burial will be 10:00 AM, Monday, December 28, 2020 at St. Anthony's Catholic Church, Hoven, with Father Darin Schmidt and Father Joseph Holzhauser, concelebrants. Interment, with military graveside rites by the John J. Peters American Legion Post No. 159, Hoven, SD, will follow at the Church Cemetery. Casketbearers will be grandsons?Trevor Karst, Lincoln Witte, Carter Karst, Grant Simon, Garret Simon, Landon Kaup, Brecken Kaup, and Kaden Kaup. Offertory gift bearers will be granddaughters?Kyla Karst, Abby Simon, Autumn Simon, Madison Witte, April Simon, Khloe Kaup, and Delaney Kaup. Musicians will be Liz Bengs, Rhonda Strouckel and Bill Keller. Lector will be Jerry Brickner and mass servers will be great nephew Connor Kaup and Jaxson Spindler.

Visitation starts 4:00 PM Sunday, December 27, 2020 at St. Anthony's Catholic Church in Hoven with a 5:00 PM Wake Service. Music will be provided by Lexie Vogel.

Ronnie, the son of Frank and Angeline 'Angie' (Wickert) Kaup, was born February 5, 1942 in Gettysburg. He was brought up on the Kaup Farm 12 miles SE of Hoven. His formal education consisted of St. Anthony's Parochial School and Hoven High School. Following his schooling, he farmed with his dad and brother and served in the SD Army National Guard. Ronnie married Linda Burgard in Hoven on August 26, 1967. They settled on Ronnie's farm two miles east of his home place. In 1989, they moved into Hoven, where Ronnie lived the rest of his life. Ronnie drove out to the farm every day up until a week prior to his death. He loved taking care of his farm, especially his cattle. Up until the end he was asking his kids if everything on the farm was ready for winter and talked about farming in the spring. Ronnie also enjoyed listening to AM 1300- ActionLine to find the best bottle calves he could. Ronnie was a gentle man, passionate about his kids, 15 grandkids, and his wife. He felt it was important that they were all together during the Holidays. He was always up for a card game, especially when his kids and grandkids were around. His children and grandchildren fondly remember being taught to drive on the farm and are thankful for the good work ethic that Ronnie modeled. He was a member of St. Anthony's Catholic Church and the Hoven American Legion Post 159.

Ronnie's funeral will be livestreamed on the Lien Family Funeral Care Facebook page and be available at www.MillerLienFH.com Wednesday night.

Ronnie is survived by Linda, his wife of 53 years; three daughters?Ronda (Paul) Karst of Ft. Pierre (Trevor, Kyla, Carter); Fran Simon of Hoven (Abby, Autumn, April, Grant, Garret); and Melody (Lavere) Witte-Trowbridge of Huron (Lincoln and Michelle, Madison); two sons?Shannon (Tawny) Kaup of Brandon (Landon, Brecken, Delaney) and Glen (Jamie) Kaup of Faulkton (Khloe, Kaden). One brother- Richard (Mary Jo) Kaup of Hoven; four sisters?Elaine Seurer and Ruby (Darrel) Rausch of Hoven, Darlene Weisgram of Chanhassen, MN, and Clarice (Vic) VanWell of Watertown; sister-in-law, Roselyn Kaup of Sioux Falls; brothers-in-law, LaVern Simon, Conald (Judy) Burgard and Kenny (Carolyn) Simon all of Aberdeen.

He was preceded in death by his father, Frank, on October 14, 1988; his mother, Angeline, on February 13, 1989; one sister, Gladys Simon; three brothers, Ray, Dean, and an infant Gerald. Parents-in-law John and Mary Burgard; three brothers-in-law, Art Seurer, Art Weisgram, and Arlyn Salfrank; two sisters-in-law, Diane (Burgard) Crouse and Linda (Simon) Salfrank; a nephew, Dion VanWell; and a niece-in-law, MaryAnn Kaup.

Services are in care of Lien Funeral Home, Bowdle.
LINKS

Capital Journal
http://www.capjournal.com