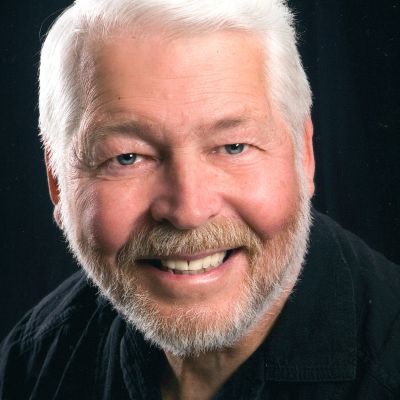 Ronald
L.
Ruble
How do you know Ronald? Please share your stories and photos, and help spread the word about this page!
Brooklyn, WI./Punta Gorda, FL. The world lost a unique and wonderful soul when Ronald L. Ruble passed through the gates of heaven. He died in the arms of his beloved wife, Mary, on Saturday, January 2, 2021. Together they achieved their goal of facing the end of his journey at home, where they had faced his battle against cancer as a team throughout the isolation of the COVID pandemic. Ron experienced great joy when he was able to see his children up close again after months of separation inflicted by the ongoing pandemic.

Ron was a creative artist, an astute business executive, a writer, and a good and respected friend to so many. He was a father, a grandfather, a great-grandfather, an uncle, a brother-in-law and a cherished husband. He has livened up the lives of everyone around him with his wit and mischief.

Ron was born on August 15, 1935 in St. Louis MO to Dolores Field and Robert Lee Ruble. His mother moved the family to Kenosha WI when Ron was a young child, and he has always called Kenosha his hometown. In his adult lifetime, he worked at Wisconsin Bell Telephone, which was part of AT&T. He also pursued his art career during that time, and after 30 years with the company, he retired to devote full time to his passion for art. He created it, he brokered it, and he collected it. His personal artwork has been included in over 90 national and international juried art exhibitions, and he has been the recipient of 42 major awards. His work is included in the collections of more than 60 museum and University art collections. He was an elected member of the Los Angeles Printmaking Society, as well as the prestigious Society of American Graphic Artists in New York.

Through his contacts within the art community, he amassed a vast collection of fine art prints by other artists. He called many of those artists friend, and he appreciated their talents as well as their friendship. He often said that he never met another artist who was not both generous and willing to share their knowledge and experience.

Ron and his wife, Mary, were recently honored by the Kenosha Public Museum for donating most of their extensive art collection to the museum for the future enjoyment and education of the people of Kenosha, and those who visit their city. The museum has named their south gallery the Ronald L. and Mary K. Ruble Gallery. Ron was so pleased to be honored in this way, and especially pleased that he was alive to attend the dedication in August.

In 1954, Ron married Carol Severance, and together they had four children, Ronald Jr. , Robin, Rory, and Leslie. Ron and Carol eventually separated, and in 1978 Ron married Mary Ferris Wickens of Madison. They shared a total of 45 wonderful years of partnership together. His children gave him 9 grandchildren and 17 great-grandchildren. Given the total number of grandchildren, Ron would joke that he would make life easy and just call all of the boys "Buddy", and all of the girls "Sweetie".

Ron is survived by his wife, Mary, his sons, Ron Jr (Cori) and Rory of Janesville, Wisconsin, daughter, Leslie of Elkhorn, Wisconsin, and daughter-in-law, Cathy Ruble of Janesville, Wisconsin. He is also survived by his 9 grandchildren: Ashley (Josh) Hanson of Janesville, Angela (Andrew) Calvert of South Beloit, Heather (Cory) Volkey of Janesville, Cara Tracy of Edgerton, Ryan Ruble of Colorado, Mike Ruble of Janesville, Phelan (Penny) Voegeli of Orfordville, Phabian (Andrea) Voegeli of Janesville, and Pharon Voegeli of Janesville; 17 wonderful great-grandchildren, several sisters-in-law, brothers-in-law and his nephews, nieces and cousins. He was predeceased by his son, Robin, his mother, father, stepfather, Kelly Ruffolo, brother, Bob Ruble, sister, Mary Jane Ruffolo, and numerous other family members.

Ron preferred not to have a formal service or gathering, especially during our current coronavirus outbreak. He preferred that family and friends who have known him enjoy their memories of the time shared with him.

His passion for his art, and the laughter and love that he brought to everyone who knew him will be greatly missed by all.

In lieu of flowers, if anyone would like to memorialize Ron, he suggested either the Kenosha Public Museum, an animal rescue or shelter of your choice, Agrace HospiceCare, or other charities of the donor's choice. And for those who are not inclined to do memorials, he suggested that they have a Miller High Life beer or beverage of choice and think of him fondly.

His wife Mary and the family wish to thank Ron's doctors and staff at SSM Health for the superb care throughout his illness and beyond. He held his primary care physician, Dr. Robt. "Zorba" Paster in high esteem, both for his skills as a doctor, and his sense of humor. His Oncologist, Dr. Rory Makielski and the wonderful staff in his group, along with Dr. Paster, were our rock of support during the most difficult parts of this journey. And finally, the special angels, the nurses of Agrace HospiceCare, who brought us to the finish line with such compassionate care. Thank you all for your caring ways.

Cress Funeral & Cremation Services

3610 Speedway Road

(608) 238-3434

Please share memories at

www.cressfuneralservice.com
LINKS

The Gazette
http://gazettextra.com
Memories
Looks like something went wrong.
Reload the page and try again.