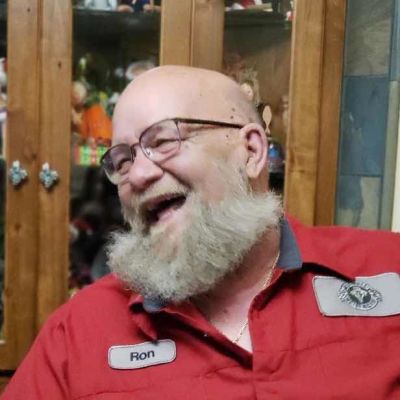 Ronald
"Ron"
Kringel
Join us in celebrating Ronald—please share your stories and photos, and help spread the word about this page!
On April 28th, 2023, Ron Kringel, beloved husband, father, grandpa, grandPAW, great-grandpa, son, mentor, and friend to many, passed away. It took a very rare disease to take down the colossal force that was Ron.

Ron was a giving, caring man who always spoke the truth and let people know where they stood. He had an ear for anyone who needed to talk. He always had the advice you needed to hear whether you wanted it or not. But under his gruffness was a kind soul; and he was as stubborn as he was kind. Treating strangers with kindness and respect was important to him. He gained many lifelong friends just by starting a conversation.

He was a thinker, a tinkerer, and was unmatched in his ideas. If he didn't know how to do something, he always figured it out himself and often improved the standard method. He delighted in proving others wrong. He enjoyed having the best front yard on the street, and he loved turning his music up, despite the neighbors.

In 1986, Ron married the love of his life, Charlene. They spent 37 years together raising a family, building a home and business, and becoming best friends. Her fondest memory of him will always be seeing his joy when he sat behind the wheel of their motorhome after loading up all the grandkids for their yearly Grandparents' Trip. She was his rock. They had a love that most people only dream of.

He loved spending time with his family, treating them to many meals and laughter around the table. Thanksgiving was his favorite holiday and there was always more room at the table. He had a nickname for just about every family member. He dreamed for years of traveling with Charlene in their motorhome, a dream they worked hard to make happen. Their adventures together took them all over the United States, Canada, and Newfoundland. Traveling with all of his grandkids every summer was one of his greatest joys. They visited many states and made the fondest memories!

For over 50 years, Ron worked as a machinist. He loved working with big iron. Ron started Northwest Motor Machine at an unsure time in his life, but as always, he devoted himself to succeeding and providing his ability and knowledge to benefit others. Twenty-six years later, Northwest Motor Machine is still a successful business that will hold on to his legacy and dream forever.

Ron's family extended far past his bloodline: from his mentors and mentees to his friends, the employees at Northwest Motor Machine, and his favorite people at all the restaurants he visited. Everyone was family to him; he never met a stranger. He found great joy in others' success in life and praised those around him for their persistence to succeed.

"Remember, no man is a failure who has friends", from "It's a Wonderful Life", was his most cherished quote. With so many friends, Ron was anything but a failure.

Ron is survived by his loving wife Charlene Kringel, his children on the "naughty list": Keri [Tulio] Marroquin, Vanessa Kringel-Richardson, Justin [Amy] Kringel, Rosemarie [Eric] Foss, Robert [Lindsey] Kringel, as well as many others who thought of him as a dad, his grandchildren on the "nice list": Kaitlyn Giddens, Cody Slothour, Bailee Tobias, Zachary Slothour, Kenzie Kringel, Zoey Marroquin, Brianna Marroquin, and Gabriel Marroquin, his beloved granddog Moose, his great-grandchild Jacob Dodd, his mother Dorothy Deamer, and three sisters.

The family would like to thank Nurse Ben, Chaplain Ro, and the rest of Harrison's Hope Hospice for the care they provided Ron and his family. The family also thanks everyone who has reached out with kind words and prayers.

Please join the family on May 12, 2023 for a service at 5:00pm with an open house until 8:30pm at Lake Side Barn at 13091 Lake Shore Dr., Nampa, ID 83686.

In lieu of flowers, the family has requested donations to Toys for Tots in memory of Ron Kringel to celebrate his love for giving to the community and spreading Kringel joy. He donated to Toys for Tots every Christmas season - a tradition that Northwest Motor Machine carries on. With his giving spirit, long beard, and jolly laugh, Ron Kringel was a real-life Kris Kringle. He will be deeply missed.
LINKS
Idaho Press
http://www.idahopress.com