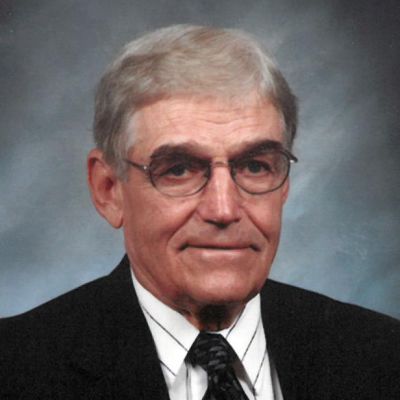 Robert
August
Schultz
Join us in celebrating Robert—please share your stories and photos, and help spread the word about this page!
Robert August Schultz was born August 17, 1924, in Postville, Iowa. He died at Unity Point Health, Allen Hospital in Waterloo, Iowa at the age of 95 years old. He was the younger of two children born to Lawrence and Lucille Schultz.

Robert graduated from Luana Consolidated High School in Luana, Iowa in 1941 and started a farming career just outside of Luana.

On September 15, 1946, Robert married Hilda Elizabeth "Betty" Strauch in the Methodist Church in Elgin, Iowa. Robert and Betty made their home on a farm north of Luana for 60 years. They were lifetime residents of Luana, Iowa.

On May 27, 1948, a daughter, Susan Kay, was born. Another daughter, Deborah Jane, was born on April 7, 1950. Deborah Jane succumbed to leukemia after a three-year illness in 1957. On October 2, 1956, a son, David Lawrence was born.

Robert and Betty spent the early years of their marriage in the dairy farming business. Robert was heavily involved where he raised purebred registered Holsteins under the Lar-Bob Holstein name. Robert was involved with several dairy organizations in Iowa throughout his career and cherished the many friends he made in the dairy industry. Robert was one of six recipients who received the Iowa Distinguished Dairyman Award in 1973. The highlight of Robert's farming career was when he received the Iowa Master Farmer Award presented by Wallace Farmer in 1976. This award acknowledges not only outstanding management in Robert and Betty's farming operation but also leadership in local, community and state organizations.

Robert also became actively involved in the banking industry with Luana Savings Bank and served as Chairman of the Board for over three decades. Robert provided the foundation for Luana Savings Bank to experience exceptional growth over a 30 year period. Robert cherished the long relationships he had with the Board of Directors and staff at Luana Savings Bank and was proud to have four other family members involved in Luana Savings Bank. Robert also served as a director at Waukon State Bank.

Robert was a member of St. John's Lutheran Church in Luana, Iowa. Robert was involved in several church functions throughout his lifetime. His wife Betty was Chairman of the St. John's Lutheran Church Scholarship Fund in Luana, Iowa, which was founded by the Schultz Family in 1996.

Robert and his wife Betty loved the simple things in life and loved the hometown area. Robert was an avid bowler in his younger years and later in life received much enjoyment as a member of the Tri-City Golf Course. Robert and Betty cherished the time spent with friends traveling together.

Robert is preceded in death by his wife Betty Schultz, his parents, his sister Erma Jean Rynasiewicz and his daughter Deborah Jane.

Survivors include his daughter and son; Susan Kay Schultz, Scottsdale, Arizona, David Lawrence Schultz and his wife Mona Schultz, Luana, Iowa and three grandchildren: Blake Robert Schultz and his wife Andrea, Norwalk, Iowa, Sarah Ann Freilinger and her husband Reggie, Monona, Iowa and Stephanie David Steele and her husband Brenen, Luana, Iowa; and three great grandchildren: Clara Marie and Emily Stein Schultz, Norwalk, Iowa and Foster Joseph Freilinger, Monona, Iowa.

Visitation will be held from 9:00 am to 11:00 am on Saturday February 29, 2020 at St. John Lutheran Church in Luana, Iowa.

Funeral Service will be at 11:00 am on Saturday, February 29, 2020 at St. John Lutheran Church in Luana, Iowa with Rev. Lynn Noel as the officiant.

Burial will follow at St. John Lutheran Church Cemetery, Luana, Iowa.

Leonard-Grau Funeral Home and Cremation Service of Monona, Iowa is helping the family with arrangements.
LINKS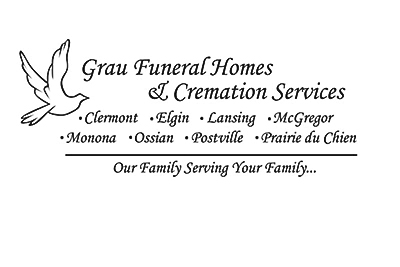 Leonard-Grau Funeral Home

Telegraph Herald
http://www.thonline.com