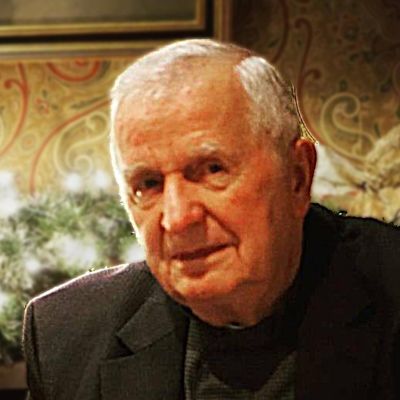 Robert L.
Cattoi
What do you remember about Robert L.? Share your stories and photos here, and invite others to come share their memories.
Robert Louis Cattoi passed away on January 8 at the age of 95. Born in Hurley, WI in 1926, Bob lived a full and vibrant life as a cherished husband, father, grandfather, and great-grandfather. He was devoted to his family and to his long and impactful career in aeronautical engineering. Bob loved flight ever since he was six years old, when his father paid fifty cents to take him up to the sky in a Ford Trimotor at the Iron County Fair. Bob served in the US Army Air Corps during World War II. While he was stationed in Brownsville, TX, he and his team rescued three submarine-hunting B-17s that were lost at sea by triangulating an increasingly faint signal and transmitting guidance to shore, saving the lives of all three crews. During his years in service, he made sure to send a letter to his beloved future wife Mary every week. She wrote back weekly too, which he told us "made the other fellas jealous." After the war, Bob graduated with honors from the University of Wisconsin-Madison with a bachelor's degree in electrical engineering (1950). He began work at Collins Radio (later Rockwell Collins), where he started as an engineer and advanced to Senior V.P. of Engineering (1970), V.P. of Engineering, Aerospace and Electronic Operations (1976), and Corporate Senior V.P. of Research, Engineering, and Manufacturing Processes (1991) before retiring in 1995 after 45 years of service. He also served eight years as a member of the U.S. Defense Science Board, where he brought his expertise in systems engineering, communication networks, and manufacturing to the office of the Secretary of Defense. One of Bob's proudest achievements in his career was fostering global collaboration through the development of joint research centers in Russia, Japan, and China. Lest this list of accomplishments suggest that Bob only had a mind for work, he once told a Pentagon representative that he needed to end an important phone call to take his grandkids to see Pocahontas. That's just who he was: he had a brilliant mind and a caring heart and balanced the two with grace. Bob was a man without limits: he viewed the vastness of the universe as an infinite opportunity to explore, and there was no end to the profound love and care he gave to his family. Five-hundred words could never describe all that he accomplished in this life, nor the love his family will hold for him always. He is survived by his three children (David, Carol, and Robert), his brother and sister, and his grandchildren and great-grandchildren. An engineer with an unexpected love of poetry, here are the final lines of Bob's favorite poem. May they guide him to the next great adventure:

Up, up the long, delirious burning blue

I've topped the wind-swept heights with easy grace

Where never lark, or ever eagle flew -

And, while with silent, lifting mind I've trod

The high untrespassed sanctity of space,

Put out my hand, and touched the face of God.
LINKS
The Dallas Morning News Obituaries
http://www.dallasmorningnews.com