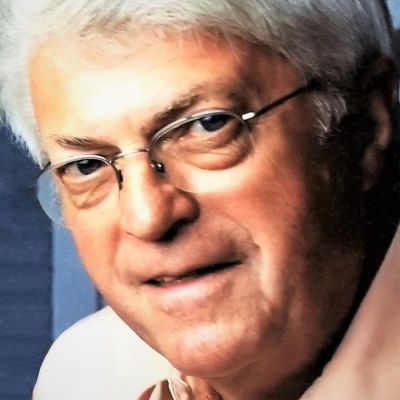 Robert
Martin
Kimball
Help us celebrate Robert! Please share your stories and photos, and invite others who remember Robert.
Robert Martin Kimball, known as Bob, BK, Mr. Janesville, or simply The Captain, passed away on Monday, February 8th, 2021 in North Palm Beach, Florida.

Bob was born in Chicago on September 28th, 1932, to Russell and Beatrice (Hagen) Kimball. He spent most of his childhood on a small farm in rural Rock County, hoping to become a farmer like his father.

His high school agriculture teacher, Mr. Wesley Wiseman, encouraged him to attend college. Grateful for his mentorship and scholarship, Bob attended the University of Wisconsin Madison, and graduated with a degree in Animal Husbandry. His life plans changed when his father sold the farm.

After graduating from college, Bob served for two years in the U.S. Army Corps of Engineers. Subsequently, in 1958, he started Bob Kimball, Inc, using $800 that he had in his bank account to buy an old farm pickup truck for $500, some two-by-fours, and some hand tools.

Bob married the love of his life, Nancy Robbins, in December of 1963. As luck would have it, Bob and Nancy were surprised and blessed to have twins, Todd and Robin in 1965. Bob has always been very proud of his two children, along with his 3 grandchildren, Oliver, Lydia and Dorrit Eisenbeis.

Bob and Nancy made a beautiful team, with Bob as the builder, and Nancy as the realtor. Early on, BK built two apartment complexes (Todd Terrace, and Robin Enterprise). Nancy's role was in renting the apartments.

Bob was a builder for over 50 years. He built many big projects, including Lab Safety (now Grainger), several hotels (including the Janesville Holiday Inn Express and the Janesville Microtel), and several self-storage warehouses. Bob had a passion for improving downtown Janesville, and he bought and refurbished several historical buildings, including the Peters Building, the Fredendall Building, the Carle Building and the Kreske Building.

Bob was a Janesville legend, always willing to help whoever and wherever needed. He was intimately involved in the construction of Rotary Botanical Gardens. He donated a building to the Rock River Charter School (renamed the Kimball Education Center), so that the school could remain downtown. Bob valued education and made sure to attend the students' graduation every year.

Bob enjoyed being involved in the Rock Country Historical Society (RCHS) and coordinated the relocation of the Frances Willard one-room schoolhouse to the RCHS campus.

He was a long-standing member of the Janesville Noon Rotary, serving a term as President, and receiving the Harris Fellow Award. As part of Rotary International, he participated in 3 mission trips to Haiti, building a house and installing wells. In 2017, he received the Hometown Hero Award from the Wisconsin State Assembly, and was given the RCHS History Makers Generations Award. He was also a recipient of the Rock County Hall of Honor Award.

BK was fond of his many collections, including 1947 John Deere tractors and implements, Jim Beam Bottles, corkscrews, and match safes.

Bob showed his love to his family by creating beautiful handmade gifts in his workshop. He gave his grandchildren handmade Lincoln logs, toolboxes, a rocking horse, pull toys, a cart for blocks, and a table for Legos. He built bunkbeds for Robin's college dorm room, and for his grandson Oliver. His final project was a wooden map of the United States, with each state made from wood from each official state tree. Bob made a large-scale wooden map for every member of his family.

Bob and Nancy loved exploring the world. Bob's many great adventures included climbing Mt. Kilimanjaro, a family safari to South Africa, several European trips with the International Corkscrew Collectors, and National Geographic cruises to the Arctic Circle, and the Galapagos Islands.

One of Bob's most daring (and longest) adventures involved his good friend, Robert Ozburn, and their sons Chris Ozburn and Todd Kimball, who built a raft and floated down the Mississippi River from Prairie du Chien to New Orleans!

Bob Kimball, age 88, left our world after a brief illness. At the end of his life, he was blessed to receive excellent care from Hospice of Palm Beach County. He leaves a legacy like no other and was a giant in the Janesville community.

He will be greatly missed by his beloved wife of 57 years, Nancy (Robbins) Kimball, his children, Todd Kimball (Jeni Lindstrom) of Janesville, WI and Robin Kimball Eisenbeis (Charles Eisenbeis ) of Durham, North Carolina, and grandchildren Oliver, Lydia and Dorrit Eisenbeis, all of Chapel Hill, NC. He is also survived by his sister Elaine White of Missouri, brother Ron Kimball of Janesville, and sister-in-law Carol (Robbins) Weber of Cuba City, WI.

A celebration of life will be held at the Kimball's home in Wisconsin at a later date, when we are safe to all be together. In lieu of flowers, please make donations in honor of Bob to Hospice of Palm Beach County, 5300 East Avenue, West Palm Beach, FL 33407, or the Rock County Historical Society, 426 N. Jackson Street, Janesville, WI 53548.
LINKS
Edgley Cremation Services

The Gazette
http://gazettextra.com