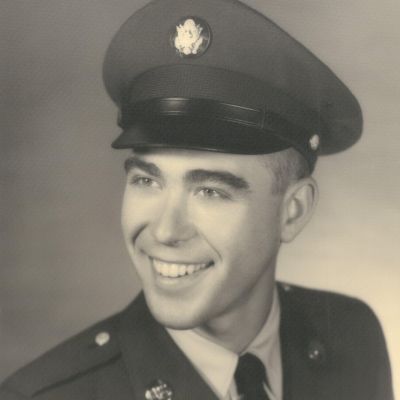 Robert "Bob"
Shields
Did you know Robert "Bob"? Please share your stories and photos, and help spread the word about this page!
Robert "Bob" Shields passed away peacefully in Dallas, Texas on December 16, 2021 after a prolonged illness. A gracious and generous soul, he will be profoundly missed by all who knew and loved him.

Bob was born on August 14, 1938 in Jacksonville, Illinois to parents Robert Lee and Theresa Shields. Bob loved husband David and together they traveled the world, with a particular fondness for New York City and Broadway.

Bob's exuberant and joyous spirit welcomed in those around him. He loved to entertain family and friends and had a creative flair for cooking. A favorite recipe was his famous Fettuccini Alfedo, and preparing Thanksgiving dinner from scratch was his time to shine. Investment club friends gathered more for Bob's delicious meals and hospitality than the financial talk.

Passionate about all sports, Bob was an avid Cowboys fan. He taught cheerleading for more than 40 years through the National Cheerleaders Association and World Cheerleading Council, working with the legendary Lawrence Herkimer and reaching more than a million kids. He was dedicated to putting the "leader" back in cheerleader.

Bob adored his family above all else and cherished his sisters, nieces, nephews, and great nieces and nephews. He was always there for important milestones, whether it be a wedding, graduation, birth, or a holiday. His thoughtful birthday cards were treasured by friends.

Preceding Bob in death are his parents, sister Sharen Shields, brother-in-law Jerry Galik and an infant nephew. He is survived by his beloved husband of 42 years, David Nesser, MD and three sisters and their families: sister Pam Galik, nephew Chris Galik and his son Lucas, and niece Beth (Rob) Smith and their daughters Clara and Caroline; sister Sue (Don) Caldwell, nephew Ben Caldwell and his children Olivia and Will, niece Amy (Matt) Dennis and their children Andrew, Michael, Patrick, and Catherine; and sister Debbie Shields (Dennis) Kinn, niece Megan Kinn (Shawn) Felt and their children Madilyn and Emma.

Additional survivors include: in-laws John (Cynthia) Nesser, their son J.T. (Ashley) Nesser and their children Jack and Randall, and daughter Amanda (Matthew) Moeller and their children Prentice and Juliet; in-laws Claude (Judy) Nesser and their children Katherine and Josh; in-laws Sally (Thomas) Schmidt and their daughter Jennie (Jacob) Dugas and their children Landry, Lucy, and John David, daughter Abby (Jacob) McGill, and daughters Emily, Maddie and Caroline Schmidt. Bob is also survived by special and dear friend Patric Ewing.

In lieu of flowers, the family requests that memorials be made to the Resource Center, P.O. Box 190869, Dallas 75219. Funeral services will be Monday, December 20, 2021, 12:00 pm, Lakeside Pavilion at Hillcrest Memorial Park, 7405 W. Northwest Hwy, Dallas, TX 75225. A reception will follow the service at Sparkman/Hillcrest Funeral Home.
LINKS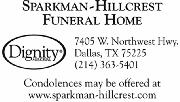 The Seattle Times
http://www.seattletimes.com

The Dallas Morning News Obituaries
http://www.dallasmorningnews.com