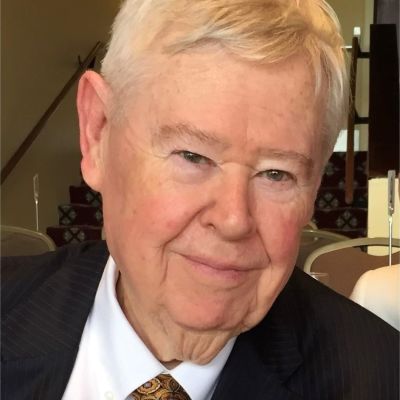 Richard
Lyle
Waters
Help us celebrate Richard! Please share your stories and photos, and invite others who remember Richard.
Richard Lyle Waters, 87, passed away peacefully on February 20, 2022, with his wife and two children by his side, in Reston, VA.

Born in Tulsa, OK, he and his parents, Dr. Eugene A. Waters and Mildred Thornburg Waters, moved to Columbus, OH, then to New York, where Richard's father earned his doctorate from Columbia University. When Richard was 6 years old, he and his parents moved to Knoxville, TN. There, his father became Dean of the Graduate School and one of the Vice Presidents of The University of Tennessee, Knoxville (UTK) in the 1950's.

Richard graduated from Bearden High School in Knoxville, TN (1953). He then attended UTK, where he earned his B.S. in Education (1957) and later, his M.S. (1966). While at UTK, Richard met his college sweetheart, Elizabeth Kay Miller, and they married on June 14, 1959 in Charlotte, TN - Kay's hometown.

One of Richard's favorite college memories is being one of the first student "handlers" of Smokey I, the school's beloved bluetick coonhound, and being a member of the Adawayhi Pep Club that worked on selecting Smokey I as the mascot for UTK in the 1950's. He also was a member of the Phi Sigma Kappa fraternity and completed the ROTC program at UTK. After college, Richard was in the United States Air Force in San Antonio, TX (First Lieutenant).

After he and Kay married in 1959, they lived in Knoxville, where Richard was Principal of Alice Bell Elementary School. In the early 1960's, he was the Assistant Superintendent of Kingsport schools in Kingsport, TN. In 1966, he became the Director of Financial Aid for UTK, until 1974. During his time at UTK, he was also the President of the Tennessee Association of Student Financial Aid Administrators (TASFAA) from 1969-1970. He was also the President of the Southern Association of Student Financial Aid Administrators (SASFAA) from 1972-1973.

Richard truly loved watching sports throughout his life; and he enjoyed following the Vols, especially UT football and basketball.

In 1974, Richard and his family moved to Piscataway, NJ, where Richard worked as the Director of Financial Aid for Rutgers University. Richard then worked for Basic Grants in Washington, D.C., which helped to provide post-secondary study for financially disadvantaged students. He continued his work as the Executive Director of the National Association of Student Financial Aid Administrators (NASFAA). In 1978, the Waters' moved to Damascus, MD. He then became the Director of Financial Aid for Howard Community College in Howard County, MD.

Richard followed the Baltimore Orioles for 4 decades as a season ticketholder. He had wonderful friendships over the years with his ballpark friends, both at Memorial Stadium and Camden Yards.

After many years in education and financial aid, Richard joined his wife as a Realtor in 1983 with Shannon and Luchs, Realtors in Montgomery County, MD, and later with Weichert, Realtors, Coldwell Banker Stevens, Realtors and Coldwell Banker Residential Brokerage. He retired from real estate in 2010.

In 2013, Richard and Kay moved to Reston, VA. He enjoyed great friendships in Reston and loved the trees, lakes and walking paths surrounding their home.

He also followed the Syracuse University Orangemen basketball team - especially since his son, Mike, a sports writer for the Syracuse Post Standard newspaper, has been covering the team for the past 34 years.

He is survived by his wife of 62 years, Elizabeth Kay Miller Waters; their two children, Michael Lyle Waters (wife, Robin) of Camillus, NY, and Katherine Leigh Scoggin (husband, Sam) of Reston, VA; his grandchildren, Christopher Michael Waters and Anna Katherine Waters and his step-grandchildren, Sierra Wright Scoggin and Shane Hunt Scoggin. He will also be dearly missed by his grand-dogs, Rocket Scoggin and Sophie Waters.

The family will gather on Saturday, March 5, 2022 at 1:00 p.m. EST at Berry Highland Memorial Funeral Home, 5315 Kingston Pike, with a visitation for friends and family to follow at 2:00 p.m. Richard will be interred at Berry Highland Memorial Cemetery with a private graveside service following the visitation.

In lieu of flowers, the family requests that you share time with your family and loved ones and live each day to the fullest.
LINKS

Berry Highland Memorial Park
The Washington Post
http://www.washpost.com
The Dickson Herald
http://www.dicksonherald.com