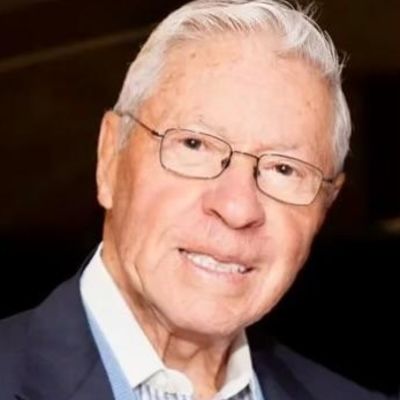 Richard
Schmeelk
What do you remember about Richard? Share your stories and photos here, and invite others to come share their memories.
Richard J. (Dick) Schmeelk died peacefully on the morning of May 19th, 2022 at the age of 97, at his home in Palm Beach, Florida. He was surrounded by his wife of 44 years, Priscilla, and his two youngest sons, Matthew and Andrew.



Dick was devoted to his family. He was predeceased by his parents, Mary (Smyth) and Garrett E. Schmeelk, his brother Garrett Schmeelk, his first wife Elizabeth (Conaghan), his sons Richard (Ricky), Garrett and Christian. Dick is survived by his wife Priscilla (Perasso), their sons Matthew (Kim), Andrew (Chelsey), his children with Elizabeth Conaghan, Elizabeth, Marrie, Stephen, Virginia and Michael and granddaughters Elizabeth Nerich, Isabella and Ali Schmeelk. Dick was a man of many accomplishments, and his legacy of generosity, good humor, faith, and family will live on in all he touched.



Born in September 1924 in Rockaway Beach, New York to Mary (Smyth) and Garrett Schmeelk, Dick graduated from Far Rockaway High School in 1943 and enlisted in the US Navy. He served honorably in the submarine service through World War II aboard the USS Blackfin in the Pacific Theater. A true patriot, Dick remained committed to the US armed forces throughout his life.



After his honorable discharge, Dick joined Salomon Brothers, an investment banking firm, where he worked for 40 years and was a General Partner and member of the Executive Committee. During the first 30 years of his finance career he was instrumental in opening the investment borders between the US and Canada, earning the moniker "Mr Canada" among his colleagues and friends, and serving as the leading US investment banker north of the border. Dick became a trusted advisor to both business leaders and government entities alike. After retiring from Salomon Brothers, Dick co-founded CAI Managers where he served as a Founding Partner for 25 years.



In 1985, Dick established the prestigious Richard J. Schmeelk Canada Fellowship to foster better understanding between English and French speaking Canadians and to create better communication between government and business. He did this in partnership with the Laval (Quebec) and Western (Ontario) universities and the fellowship was later extended to include the universities of Calgary and Montreal. To date, 130 select, post-graduate Canadian students have participated in and completed the program. More recently, Dick established a special scholarship in the name of the late Ken Taylor, the Canadian Ambassador who provided refuge in the Canadian Embassy to Americans during the Iranian Revolution. Over the course of his career, Dick served as the American Co-Chairman of the Canadian-American Committee, Chairman of the National Policy Association in Washington, Vice Chairman of the Board of Governors of the United Nations Association, an honorary member of the board of the Americas Society, and was a President of the Montreal Museum in the US. He was also the recipient of honorary doctorates from Western University, Universite Laval, and Bishop's University, as well as a knighthood from the national order of Quebec. In 2018, Dick became the 9th American to be awarded honorary membership in the Order of Canada.



Dick believed deeply in the power of transforming children's lives through education. In 1988, he joined the board of the Endowment for the Inner-City Education in the Archdiocese, and worked tirelessly with this team to form the Partnership Schools, a high-performing Catholic school network in New York. He was a Board Member of Covenant House, a philanthropic organization dedicated to homeless youth around the world. In 2006, Pope Benedict XVI bestowed upon Dick the Knighthood in the Order of St. Gregory The Great, for his work on behalf of the Catholic Church. Dick was also a Knight of Malta for 35 years.



A competitive and gifted athlete, Dick could often be found on the tennis court, the golf course, or the basketball court. He was a longtime member of the New York Athletic Club, the Knickerbocker Club, the Rockaway Hunting Club, the Lawrence Beach Club, and Mar-a-Lago. He was a loyal, genuine friend with a sense of humor that kept everyone on their toes. Always humble, and impeccably dressed, Dick carried a magnetic charisma in his 6'2" frame and seemed to effortlessly charm everyone in his presence. A natural storyteller, in 2007 Dick finally penned his own story in his memoir, "Mr. Canada: Adventures of an Investment Banker Inside and Outside Business" to share with others the many lessons of business and diplomacy that he learned throughout his career.



In his later years, Dick developed a deep passion for gardening, cultivating seedlings to watch them grow, a fitting hobby for a man who spent so much of his life nurturing people, businesses, family, and faith to grow over time. All those he touched will continue to flourish because of his loving care. A man of great faith, Dick will forever remain in the hearts of all those who loved him, and his generosity will continue to serve communities for generations to come.



A viewing will be held at the Frank E. Campbell Funeral Chapel located at 1076 Madison Avenue, New York on June 7th, from 4pm-8pm. The Funeral Mass to celebrate Dick's life will be on June 8th at St. Patrick's Cathedral at 10:00am. His Eminence, Timothy Cardinal Dolan, Archbishop of New York, Celebrant. There will be a reception following the Mass. In lieu of flowers, the family asks that a donation in Dick's memory be considered to either the Partnership Schools or Covenant House.



Contributions to the Partnership Schools will help establish the Richard J. Schmeelk Educational Fund and may be made online by visiting www.partnershipnyc.org or mailing a check made payable to Partnership Schools, 1011 First Avenue, Suite 1800, New York, NY 10022. Please indicate Richard J. Schmeelk Educational Fund on the check.



Contributions to Covenant House may be made online by visiting covenanthouse.org or mailing a check made payable to Covenant House, 461 Eighth Avenue, New York, NY 10001. Please note Richard J. Schmeelk on the memo of the check.
LINKS
Frank E. Campbell
http://www.dignitymemorialpremier.com/frankecampbell/en-us/index.page?amp%3Butm_medium=organic

Dow Jones/Wall Street Journal
https://www.dowjones.com