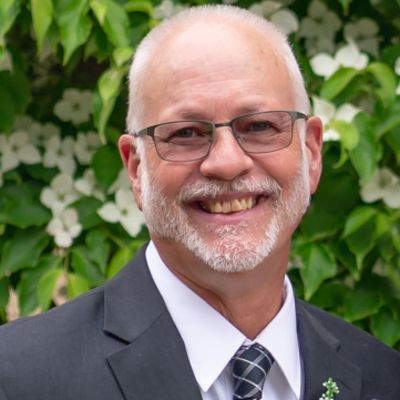 Richard D.
"Rick"
Dosh
Join us in celebrating Rick.—please share your stories and photos, and help spread the word about this page!
Richard "Rick" Dale Dosh, age 63, of Battle Creek, passed away Friday, April 10, 2020 at Rose Arbor Hospice Residence in Oshtemo Township, Michigan, after a heart attack.

He was born September 4, 1956 in West Branch, Michigan the son of John L. and Ardis R. (Bentley) Dosh. His family moved to the parsonage at North Athens Baptist Church in Athens in 1957, where he roamed the woods, worked with farmers, and rode motorcycles. Rick graduated from Athens High School in 1975. He married Rebecca "Becky" Craun in 1987 in St. Thomas, USVI. Their marriage was a priceless gift from God. For the past 35 years, Rick had been working as a Maintenance Supervisor/Planner at Post Foods in Battle Creek. Prior to that he worked in sheet metal and welding.

Rick loved being outdoors and physical work and was always working on fix-it projects of all kinds. He worked well with his hands, in every medium but carpentry. He loved to share his knowledge with others. Travel adventures, grilling, cooking together, and entertaining at home were the means by which he instigated constant shared experiences with others. He poured himself into the lives of children with gusto, getting on their level for teasing, mischief, or merry-making.

As a husband and father, Rick was dedicated to giving his all, making his devotion seem effortless.

If you knew Rick, it didn't take long to realize his passion for making people feel at ease through telling stories and conversation, or his anticipation of a need to meet. Rick might have claimed he loved Canada more, but people were his mission. Rick didn't waste time. Every opportunity held a lesson, joke, or growing experience.

One of his passions was taking people to Canada and showing them rugged wilderness beauty; evidence of his Creator. It was there that he was in his element - fishing, bear hunting, four-wheeling, and camping. Rick could be serious, but often had a sparkle in his eye that stemmed from a jest, pun, or a clever remark. Rick dearly loved his family, friends, and church family at South Side Bible Church. Humbly recognizing his own failures, he knew he was a sinner saved by grace. God's grace was increasingly apparent in his life. Gratitude for the forgiveness he received and the settled confidence and assurance of his new life in Christ motivated his generous love and service for those around him.

He is survived by his loving wife Becky; his son Austin J. (Abigail) Dosh of Kalamazoo; his siblings, Mervin (Judy) Dosh of Marion, Iowa, Raymond (Cynthia) Dosh of Marion, Indiana and Kristine (Shawn) O'Keefe of Athens, Michigan. He was preceded in death by his parents.

A memorial service to honor Rick's life will be held on Saturday, April 25 at 2:00pm, with visitations on Friday, April 24, 2:00pm-4:00pm and 6:00pm-8:00pm. These online services will be arranged through South Side Bible Church in Battle Creek. Pastor Michael Brown and Pastor Rick McNally officiants. Interment and a Celebration of Life will be held at a later date.

Memorial contributions may be directed to South Side Bible Church 4515 Beckley Rd, Battle Creek, Michigan 49015.

Arrangements were entrusted to Kempf Family Funeral and Cremation Services, Battle Creek, Michigan.

Please visit www.south-sidebible.org for details to join the online service and online visitations and to share with family: remembrances, condolences, photos, & video messages.


Memories
Looks like something went wrong.
Reload the page and try again.