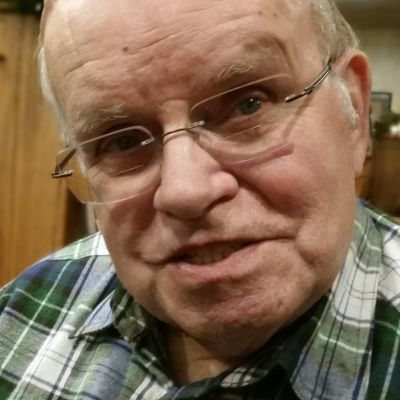 Richard
Groux
What do you remember about Richard? Share your stories and photos here, and invite others to come share their memories.
Richard Groux, 89, of Taylor Community, died Sunday, August 21, 2022, with his wife by his side.

How do you sum up the life and accomplishments of a man in just a few sentences? So many times, we look at the items we have accumulated to find out what we have done only to find those items do not define the person we were; it is the collection of memories and people we have touched. Richard touched so many.

Richard was born in Manchester, NH, on May 8, 1933, to the late Ted and Helen Groux. He was a man of few words but was always listening and we are sure he still is. He was a proud member of the US Army and earned a degree in accounting from St. Anselm College. Richard lived most of his life in Hooksett and loved spending time working in the yard. 4:30 am came all too early, but he never missed his son's hockey practice or games no matter what. He also would never miss the opportunity to have dinner at Angelo's (they should have renamed the Italian feast in his honor). In his early years Richard took up stamp collecting only to put that hobby to the side while raising his son. It was not till he took the time to get back into his hobby in later years, that we realized the true extent of his collection. His greatest legacy is the kindness and compassion he carried with him everywhere he went. He had a huge heart and a ready smile.

He spent years working as the Secretary Treasurer for Banks Chevrolet and Arista Chevrolet followed by a second career supporting the many needs of St. Patrick's Parish in Manchester.

Richard leaves his wife Diane (Garneau) Groux; son, Art and his wife Carolyn; grandson, Dominick and his wife Stephanie; granddaughter, Monique and her husband Adam, and their soon-to-be addition, and 2nd LT. Collette Groux; great-granddaughter, Valerie; sister, Rita Dinwoodie; and many nieces and nephews. In addition to his parents, Richard was predeceased by his first wife, Monique (Fecteau) Groux in 1974.

Richard's family would like to thank the Taylor Community for their outstanding care and support while he was there along with the Lakes Region VNA.

A Calling Hour will be held on Thursday, August 25, 2022, from 9:30am-10:30am at the St. Andre Bessette Parish - Sacred Heart Church, 291 Union Ave., Laconia NH.

A Mass of Christian Burial will follow at the church at 10:30am.

Burial will be held at the family lot at Sacred Heart Cemetery, Garfield St., Laconia, NH.

Wilkinson-Beane-Simoneau-Paquette Funeral Home & Cremation Services and 603Cremations.com, 164 Pleasant Street, Laconia, NH, is assisting the family with arrangements. For more information and to view an online memorial, please visit www.wilkinsonbeane.com.
LINKS
Wilkinson-Beane-Simoneau-Paquette

The Union Leader Memoriams
http://www.unionleader.com