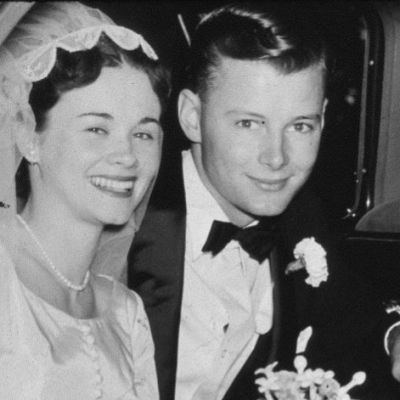 Richard
E.
Clark
How do you know Richard? Please share your stories and photos, and help spread the word about this page!
Colonel Richard E. Clark U. S. Air Force retired of Grove City, OH, dedicated to God, country and family, left the confining bounds of earth to bask eternally in the heavenly skies of God on September 29, 2021. He was born to Wyvil and Ellen Clark on May 26, 1931, in St. Peter Minnesota. He graduated from the University of Minnesota with a BS in Aeronautical Engineering, and received a commission in the U. S. Air Force in 1954 and having learned to fly in 1951, he was inspired to go to Air Force flight training and logged many hours as a top notch pilot..

He married his high school sweetheart, Pat Pell, in 1953 and they raised three beautiful children, Robin, Nancy, and William. Throughout his Air Force career, Colonel Clark successfully completed many stateside assignments as well as two remote assignments to Southeast Asia during the Vietnam conflict.

After three assignments as a pilot, he went to the Air Force Institute of Technology (AFIT) and received a MS in Electrical Engineering, majoring in Guidance and Control. This led to technical and management positions at several critically important Air Force projects and facilities, including the Central Inertial Guidance Test Facility (CIGTF), Manned Orbital Laboratory, the F-15 System Project Office (SPO), the Maverick Missile SPO, and the A-10 SPO. During his first assignment to the CIGTF, he managed the analysis of gyro and accelerometer tests. Later in his career he returned to be the Commander of that organization. He managed the testing of avionics for the F-15 Eagle, including the management of a fly-off between manufacturers of the new digital doppler radars. He was Deputy SPO commander for the Maverick SPO and managed a test of the IR version of the new guidance system in

an European test environment. His final assignment was as the SPO director of the A-10 Thunderbolt

during the initial procurement when the first 350 A-10s were delivered to the USAF.

He retired from the Air Force in 1980 and served as Chief Engineer for Systron Donner, a gyro and accelerometer manufacturer. In 1987 he was employed by The Analytic Sciences Corporation as a consultant. In1993 colonel Clark took a well- deserved retirement during which he enjoyed time visiting family, traveling, golfing, researching his genealogy, flying his drone, organizing and recounting his life in photographs. He and Pat later moved to Grove City, Ohio to be near family full time.

Survivors include his wife Pat of 68 years, his three children, Robin McMaster (Doug) of Tucson AZ, Nancy Hamman (Carl) of Mt. Sterling OH, and William Clark (Ellen) of Chillicothe OH. Grandchildren include, Bree and Ryan McMaster, Robert and Scott Hamman, Matthew, Andrew, and Peter Clark. Great grandchildren Harper, Blakely, Rhett, Riley and Chase.

He will be sorely missed and fondly remembered. A Celebration of Life will be held at 4680 St. Andrews Drive, Grove City OH on November 21, 2021 from 1-3pm

Donations may be given to Wounded Warriors PO Box 758516 Topeka, Kansas 66675 and Capital City Hospice 2800 Cooperate Exchange Drive Columbus Ohio 43231.
LINKS
APG Southern MN House Account

St. Peter Herald
https://www.southernminn.com/st_peter_herald