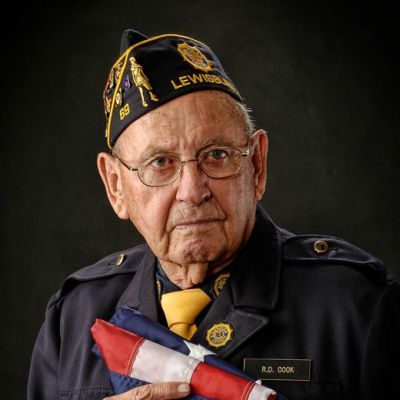 Rhel
Duane
Cook
He loved his God, his country, his family and the United States Marines. Rhel was a Marine Raider who served under Col. Evans Carlson in WWII.
Born Aug. 19, 1920, in Raleigh County, W.Va., he was the son of the late Edward Cook and Belvie Louise Petry Yates.

Rhel proudly served in the Second Marine Raider Battalion of the Pacific Fleet.

In addition to his parents, Rhel was preceded in death by his step-father, Henry Yates; an infant son, Jack Cook; a grandson, Edward McLeod, and a sister, Ellene Chittam.

He was a member of Emmanuel Open Bible Church at Vago, W.Va. He served in the US Marine Corps from 1938 to 1961 and retired as a First Sergeant. He was a member of the American Legion Post 69 of Lewisburg, the VFW Post 4940, was a member of Greenbrier Lodge No. 42 Masonic Lodge and was a member of the National Rifle Association. He was also a referee for the NRA, was a counselor for Boys State for 30 years and was a local electrician.

Survivors include his wife, Betty R. Hefner Cook; children, James D. Cook of Inwood, W.Va., Carol McLeod and husband, Thomas of Colorado Springs, Colo., Rhelda Hanson and husband, Richard of Inwood, W.Va., Sam Lister and wife, Terri of Galloway, Ohio, Steve Lister and wife, Rebecca of Milton, W.Va. and James Lister and wife, Amy of Scottown, Ohio; 15 grandchildren, and 16 great-grandchildren.

Service will be 2 p.m. Saturday, Oct. 20, 2012, at the Emmanuel Open Bible Church, Vago, with the Rev. Gary Devart, Rev. Debbie Devart and Rev. Lula Collins officiating. Burial with Military Honors will follow at the Lewis Chapel Cemetery at Vago.

The family will receive friends Friday, Oct. 19, 2012, from 6 p.m. to 8 p.m. at the Emmanuel Open Bible Church at Vago.