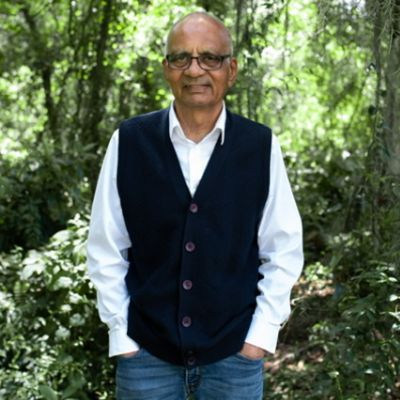 Rajendra
Patel
Join us in celebrating the well-lived life of Rajendra T. Patel by sharing your memories, stories and photos of Raj's wonderful journey
Rajendra Patel, passed peacefully at his home in Oviedo, FL on Wednesday, January 13, 2021, surrounded by his wife, and two children. Rajendra affectionately known as "Raj" to his family and friends, was born January 26, 1945 in Karamsad, India and grew up in Ahmedabad, India.

In 1964, at the age of 18, Raj started his journey to better his life and that of his family, by coming to America with less then $100 in his pocket. At the time he had aspiration for the American education to better his future in India. Little did he know, he would begin his pioneering journey of the American dream. Upon finishing his college education, he returned to India to marry in 1971. After getting married to his loving Rita, Raj returned to the land of dreams to continue a masterful journey.

He never imagined himself as a pioneer, but the journey continued as he began to set roots in America and bring his family one by one to America so that they may better their lives. The patriarch continued his unannounced mission as more friends and family continued to migrate, with Raj as their back bone in a new world; dedicating the early part of his journey here to help them plant roots in America.

Countless people now call America their home as a result of one man's aspiration to have a better life. The unimageable scary solo journey has culminated in his entire family, extended family and closest friends that now call America home. Many will not realize how and who made this possible, but today we get to share that with all of you so that he may be remembered for being simply "The Pioneer".

As we reflect on his journey, the powerful aspiration and drive has kept his journey alive and well. As family and friends we shall never forget the sacrifice, hardship, trials and tribulations of making a life for many.

The grief of watching our dad's day-to-day losses came quickly: seeing him unable to figure out how to unlock a car door, discovering he could no longer dial a telephone, watching as he lost interest in his work, playing sports and television. Our father loved working hard—he was one of those people who always believed you work to build a legacy for your loved ones.

With three strokes between 2014 and 2017, he was diagnosed with Vascular Dementia. After his diagnosis he was not even interested in the things that made him once feel at ease. As the first to observe these losses, we grieved for our dad's shrinking skill set. He hardly seemed to notice.

On January 13, 2021, Raj passed away in his sleep 13 days shy of his 76th birthday. For "The Pioneer" who hailed from 13 Alkapuri Road, Ahmedabad, India, may his beautiful soul rest in peace.

Raj is survived by his wife, Rita, two children, Minesh and Monika, brother Rohit, sister Yashwanta, and grandchildren Sahil, Shalyni, Zara and Zayn.

In lieu of flowers, please consider making contributions in memory of Rajendra Patel online at Dementia Society.
LINKS
Dementia Society
https://dementiasociety.charityproud.org/donate