 R.E.
Josey
Join us in celebrating R.E.—please share your stories and photos, and help spread the word about this page!
The legendary R.E. Josey passed away Thursday February 24th at the age of 91. He is survived by his wife of 56 years, Martha Arthur Josey.

"It is with a heavy heart that we here at the Josey Ranch must share the news that our hero, founder, mentor and beloved family member, R.E. Josey, has been called home to our Lord and Savior, our hearts are warmed by the outpouring of love and support we are receiving from all over the world."

Born to Walter C. Josey and Addie Young Josey on October 8, 1930 in Garza County near Post, Texas, R.E. had six siblings, three of whom preceded him in death: Elsie Josey Wright, Lester Josey and Roy Josey. Also preceding him in death were his son, Randy Josey, granddaughter, Heather Dickson Hoffner, and brother-in-law Bobby Arthur.

Surviving siblings are Joyce Josey Tatum and husband, Don, Loyce Josey Phillips and husband, Charles, and Royce Josey. He is also survived by sister-in-law Theona Josey.

Surviving children are Jaynie Dickson, Linda Huestis and husband, Terry, and daughter-in-law Patricia Josey. He is also survived by nephews, Gary Arthur and wife, Kristi, Frankie Arthur and wife, Jennifer.

Grandchildren are Jarett Dickson, Justin Hoffner, Robby Huestis, and wife, Ali, Halea Newcomb and husband, Daniel, Torre Josey, Tyler Josey and wife, Alexis, and Trent Josey and wife, Shastin. He is also survived by Kayci Arthur Walker and husband, Rob, Paige Cowley and husband, Cameron, and Hunter Arthur and wife Chasitee.

Great Grandchildren are Jaxson and Parker Huestis, Addie and Walker Newcomb.

Martha would say he is also survived by thousands of extended "family", students, instructors, contestants and friends.

R.E., winner of three AQHA Tie-Down Roping World Championships on three different horses in the seventies, had a knack for figuring out how to make both horse and rider a winning team in rodeo's timed events. He was the husband of WPRA, AQHA and NBHA World Champion barrel racer Martha Josey and was known, along with his wife, not just for their own rodeo accomplishments, but for the tremendous impact they have had on the sport of rodeo.

R.E. and Martha began conducting barrel racing clinics in 1967 and continue to host the longest running barrel racing and calf roping clinics and schools, having instructed hundreds of thousands of rodeo athletes through the years. In 1981, the couple began hosting the Josey Jr. World Championship Barrel Race, attracting thousands of contestants from around the world and one of the most prestigious youth barrel races in the world. The Josey Ranch Reunion Barrel Race, an opportunity for former students to compete, many of which are now world champions themselves, was started in 1994.

In addition to the induction to the Texas Cowboy Hall of Fame, R.E. Josey was also inducted into the Texas Rodeo Hall of Fame in Fort Worth, Texas and the Ark-La-Tex Sports Museum in Shreveport, Louisiana.

Visitation for R.E. will be Sunday, Feb. 27 at 5:00 pm and the funeral service is scheduled Monday, Feb. 28 at 1:00 pm. Both visitation and service will be held at the Josey Ranch in Marshall, TX.

In lieu of flowers, donations may be made to the R. E. Josey Scholarship Fund, c/o Josey Ranch, 8623 SH 43N, Karnack, TX 75661.

A memorial guestbook may be signed online at www.raderfh.com.
LINKS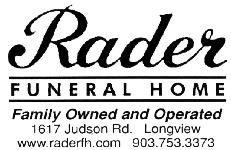 Rader Funeral Home -Longview
http://www.tombolls.com

Lubbock Avalanche-Journal Memoriams
http://www.lubbockonline.com
The Times (Shreveport)
http://www.shreveporttimes.com

Marshall News-Messenger-Memoriams
https://www.marshallnewsmessenger.com

Longview News-Journal- Memoriams
https://www.news-journal.com