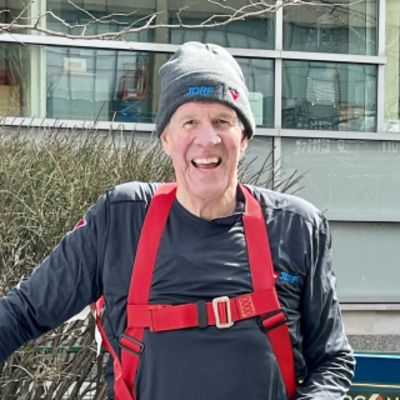 Peter
"Chief"
Oliver
Peter was fortunate to be loved by many. His family would greatly appreciate kind words and memorable anecdotes from those who knew him.
Peter Charles Howard Oliver died peacefully and with a grateful heart on Wednesday September 21 with his children and wife Maureen by his side. A Celebration of Life will be held Sunday October 16th at 2pm at The Carlu, 444 Yonge Street.

Peter was diagnosed with stage IV cancer in May 2021, a challenge he faced head-on with strength and grace. Throughout his treatment he maintained a positive spirit for which he will be forever remembered.

Peter Oliver's remarkable career in the hospitality industry spanned 45 years, during which time he set the bar in Canada for high standards of quality, service and professionalism. Born in Cape Town, South Africa, Peter moved to Canada in 1967 to attend McGill University. In 1978, following a successful career in stock brokerage and commercial real estate, he opened his first restaurant in Toronto: a small sandwich shop at Yonge and Eglinton named Oliver's Old Fashioned Bakery. In 1993, Peter partnered with Chef Michael Bonacini thus marking the start of Oliver & Bonacini Hospitality (O&B).

A natural leader, Peter's greatest strength was his ability to inspire and excite others, rallying the team around his vision and goals. As a business leader, he valued people and positive company culture above all else. In his determination to have his employees share his vision, he would regularly host orientation sessions with teams of new recruits—servers, dishwashers, cooks, managers— to explain the company values first-hand, and then to share a wonderful meal with them. It was critical to Peter that every member of the team understand not only what great hospitality meant intellectually, but also what it felt like to experience it.

Peter approached his hospitality career with great pride and professionalism. He was a hospitality industry pioneer in providing to his employees training programs, benefit packages, educational funding, travel opportunities, and career development. The expansion of O&B led to increased job creation, something Peter valued greatly, with thousands of people employed by the company since its inception. Peter was a passionate advocate for the Ontario Hostelry Institute, and a key supporter of local hospitality educators, receiving honorary degrees from Toronto Metropolitan University and George Brown College.

Giving back to his community was also a top priority. Following the diagnosis of his 6-year-old daughter, Vanessa, with type 1 diabetes (T1D), Peter began volunteering with the Juvenile Diabetes Research Foundation (JDRF), founding the JDRF Ride to Cure Diabetes in 1986, an event that has raised over $70 million, and engaged thousands of volunteers across the country over the past 36 years. He went on to serve on JDRF's National Board of Directors from 2004-2008, and co-chair the In Our Lifetime Campaign in 2015 — JDRF's first major gift campaign which raised $55 million, as well as JDRF's ongoing $100M Campaign to Accelerate. In just over two years, Peter helped raise nearly 69% of the $100 million goal, spending day and night strategizing new ways to raise the remaining amount determined, as always, to deliver on his commitment.

In 2021, one of his bold initiatives was the Flagpole 100 Challenge, in commemoration of the 100th anniversary of the discovery of insulin. Peter had first introduced the idea 33 years ago when he raised donations living atop a flagpole for a week. This past April, flagpoles were once again erected in cities across Canada, with brave Canadians impacted by T1D living atop them continuously for four days. Despite Peter undergoing treatment at that time, he was undeterred in his resolve to spend a day and night up the flagpole once again, and officially pass the fundraising mantle to daughter Vanessa and lead the family in achieving the $100 million goal.

In 1992, Peter founded the Leacock Foundation. Its mission was rooted in the belief that all children, regardless of their circumstances, have limitless potential. The Leacock Foundation supports children and youth in historically marginalized communities with educational programming locally in Toronto and globally in the Eastern Cape of South Africa. In Toronto, the Leacock Foundation offers fully-funded literacy and leadership programs to communities including St. James Town, Jane-Driftwood, and Scarborough, as well as to the Wandering Spirit School. The Leacock Foundation also has a long-standing partnership in South Africa with the Get Ahead Project Schools which provide low-fee, quality education at three independent schools in the Eastern Cape. Over the past 30 years, under Peter's leadership, the Leacock Foundation has raised over $20 million and has helped thousands of children thrive by providing them with an innovative, experiential education in a nurturing environment.

Despite all of his professional accomplishments and philanthropic efforts, Peter has no greater passion than for his family. Peter is survived by: his loving wife of 48 years, Maureen; his children and grandchildren, Vanessa (Jaysen Smalley, Scarlett, Connor, Owen), Jessica (Alain Brandon, Benjamin, Eliane, Nicholas), Andrew (Alana Oliver, Jack, Charles) and Marc (Christine Oliver, Victoria).

While Peter maintained deep affection for South Africa – particularly the Old Andrean community from St. Andrew's College in Grahamstown and his beloved Springboks rugby team (for whom he would set an alarm for 3am if required to catch a match live) – his family cottage on Lake Baptiste was his heaven on Earth. He relished every opportunity to teach his grandchildren about nature's interconnectedness and the unique satisfaction that comes from physical labour in service of a vision. He spent countless hours digging holes, moving rocks and planting hostas putting men half his age to shame with his stamina. Occasionally he would pull himself away from his latest project to swim, practice yoga or sip a gin & tonic with fresh mint while enjoying the view and declare: "This is living".

The family would like to share its overwhelming gratitude to the warm and talented medical professionals who provided Peter with care including but not limited to: Dr. Ines Menjak, Dr. Arjun Sahgal, Dr. Jordan Zappieri, Dr. Sheana Desson, Dr. Shelly Dev, Dr. Debbie Selby and countless nurses and support workers at Sunnybrook who worked under extremely stressful circumstances with inadequate infrastructure. It is thanks to their commitment Peter lived his final chapter with dignity.

Finally, the family is taking great comfort to hearing from friends and loved ones about the positive impact Peter had on their lives. Those willing to share their condolences, memories and thoughts are encouraged to do so.

The plans to celebrate Peter's life will be shared at a future date. In lieu of flowers, Peter's family gratefully requests that donations be directed to the JDRF $100M Campaign to Accelerate or to the Leacock Foundation Literacy and Leadership Program.
LINKS
JDRF Campaign to Accelerate
https://www.jdrf.ca/get-involved/accelerate/
JDRF Campaign to Accelerate
https://www.jdrf.ca/get-involved/accelerate/
Leacock Foundation Literacy Program
https://www.canadahelps.org/en/dn/m/13178