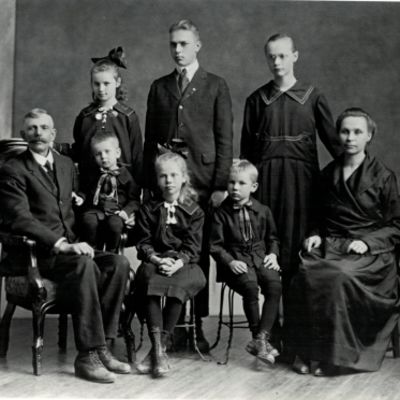 Peter and Johanna
Larsen
The life of two determine people to start life and a family in a different country and call it their own.
Peder Larsen and Johanna Wilson were married on Feb 6, 1906 in Spencer, Iowa. The built a farm and family on 120 acres just south of Spencer along Hwy 71.

Peder was born on Dec 07, 1866 in Tokkerup, Fakse parish, Præstø county, Zealand (Sjælland), Denmark. His parents were Peder Larsen, Sr and Anne Marie Pedersdatter. He came to America around 1889.

Peder died expectantly in Oct 1924. He had a cerebral hemorrhage and was in the Cherokee Hospital for 10 days, dying on the 9th. One family story is he had a fall while repairing the house roof. There are other stories as well.

Johanna Wilson was born Johanna Villadsen (Willadsen) in Nørre Rævbak farm, Torslev parish, Dronninglund, Hjørring county of North Jutland in Denmark. She was born on Feb 20, 1880. She was born to Hans Christian Villadsen and his second wife, Mariane Kristine Sørensen. Johanna came to America with her brother Chris (Lars Christian). Their older half-brothers and a sister came before them to Iowa. Brother Sam (Soren) Wilson came in 1903 after selling the farm, Nørre Rævbak (North Fox Creek).

Johanna died Sept 26, 1952.

Both are buried at Riverside Cemetery in Spencer, Iowa.

Together they had nine children. Eight lived to adulthood. One is still living at the age of 93.

Children were: Jens Willie 1907-1987; Hans Chris 1907 and twin of Willie. Died between 1907 and 1910; Lenora C. 1909-1995; Anna Marie 1911-1973; Nettie 1914-2007; Carl Peter 1916-2001; Arnold 1918-1998; Violet Mae 1922-1991; and one daughter -still living.

After Peder died, Johanna was determine to keep her family and farm together. With the help of her children, they dealt with the hard times of the Great Depression. They were an inspiration to all.