Patsy
Aliece
Kirby
Join us in celebrating Patsy—please share your stories and photos, and help spread the word about this page!
Patsy Aliece Kirby died peacefully on January 14, 2021 in her home in Sherman, TX. Patsy Aliece, affectionately known as "Gran", was born on October 15, 1932 in the Red Oak Flat community of Cherokee County, Texas in the home of Doctor Butler and Finis B. White Henry. During her elementary years she attended Salem School and graduated from Troup High School in 1949. She went on to earn a nursing degree from Northwestern State University (Natchitoches, LA) in 1953. Throughout her 51 year nursing career, she also worked in various nursing facilities, doctor's offices, and general hospitals in Texas and Kansas. After passing her board exams most notably, she worked as a Registered Professional Nurse at Patterson Memorial Hospital, Henderson Memorial Hospital and East Texas Medical Center (Tyler, TX). Her distinguished nursing career also included teaching obstetrics at ETMC School of Nursing in Tyler and pediatrics at Brackenridge School of Nursing in Austin, Texas.

On August 26, 1956, she married Clarence E. Kirby at First Methodist Church in Troup, Texas and was married for 55 years. She was an active member at Pollard United Methodist Church (Tyler, TX), a member of United Methodist Women, PEO, and Junior League of Pampa, TX.

Patsy was preceded in death by her husband, Clarence, her father, Butler Henry, her mother, Finis and great grandchild, Trae Kuhn. She is survived by her four children: Kevin Kirby (Kay Ellen) of Sherman, TX; Aliece Brake (Al) of Houston, TX; Butler Kirby (Gayle) of Hurst, TX and Lynn Kuhn (Steve) of Pampa, TX; grandchildren, Emily Kirby, Lauren Kirby, Bailey Murray, MacKenzie Murray, Dustin Kuhn (Haley) and Kirsten Kuhn; and great grandchildren Calvin and Oliver Kuhn.

A visitation will be held at Lloyd James Funeral Home in Tyler, TX (1011 East First Street) on Friday, January 22, 2021 from 5 - 7 pm. A private graveside service will be held at Henry's Chapel United Methodist Church Cemetery in Troup, TX (4539 FM 13 East) at 10:30 am Saturday, January 23, followed by a memorial service at 11:00 am in the Church, which is open to all who wish to attend. If desired, In lieu of flowers, donations may be made to: Henry's Chapel UMC, P.O. Box 601, Troup, Texas 75789 or Chapter DN P.E.O., 103 Newport, Bullard, TX 75757 (Please make checks payable to P.E.O. International).
LINKS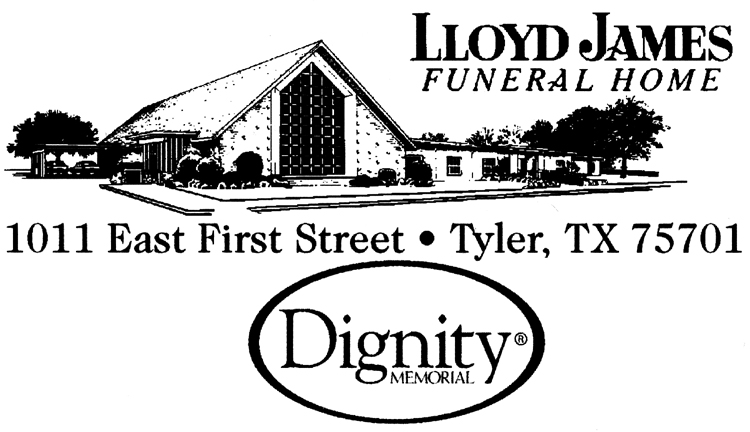 Herald Democrat
http://heralddemocrat.com
The Hays Daily News
http://www.hdnews.net

Tyler Morning Telegraph
http://www.tylerpaper.com