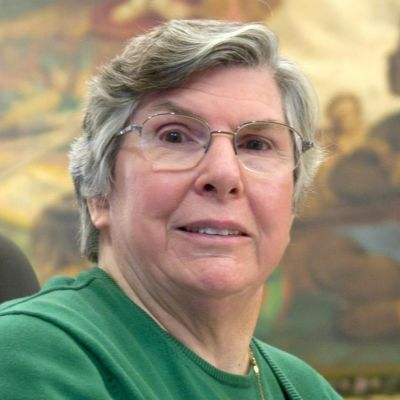 Patricia
Ann
McAdams
Did you know Patricia? Please share your stories and photos, and help spread the word about this page!
Patricia Ann McAdams (Sister Joseph Kieran, IHM) ended her journey on earth on August 1, 2022, as she walked peacefully into the arms of God. Patricia was born Feb 28, 1942, as the fourth child of Frank and Helen (nee Tierney) McAdams.

Patricia was preceded in death by her parents and nephew Bobby McAdams. She is survived by her sisters and brothers: Helen Fallon (Mike), Camille (Sister Helen Loretta, IHM), Frank (JoAnne) Ann McAdams, SSJ, Jim (Dolores), David (Nancy), Marylou Palilonis (Charlie), Rob (Eileen) and Therese. She is also survived by 16 nieces and nephews and their spouses and 25 grand nieces and nephews.

Patricia was taught and formed by the Sisters of St Joseph at St Leo from kindergarten through 12th grade. When Patricia was in the 8th grade, Mother Victorine, SSJ, encouraged Patricia to take the scholarship test for Mount St. Joseph Academy and with that, was awarded a four-year Scholarship to attend.

Upon graduation from The Mount, Patricia was awarded a full scholarship to continue her education at Chestnut Hill College. However, after the first year she decided to follow her sister, Camille and her four Tierney Aunts to the Immaculate Heart of Mary religious order in West Chester, PA.

As a Sister of IHM, Patricia received her Bachelor's Degree in Mathematics from Immaculata College. She received her Master's in Mathematics from the University of Notre Dame in 1967 where she became good friends with Fr Ted Hesburgh.

Patricia taught at several high schools in both the Archdiocese of Philadelphia and the Diocese of Harrisburg as well as at Immaculata College. While still in religious life, Patricia's interest in computers came to the fore. She became the first person to receive a PhD in Computer Science from the University of Missouri in 1977.

As time went on, Patricia became responsible for all the computers in the Diocese of Harrisburg where she installed the first IBM computers with hard drives.

After 30 plus years in the convent, Patricia was called to new things. She left the convent and found herself teaching Math and Computer Science at Pikeville College in Kentucky. While on spring break in 1992, Patricia visited her old friend, Fr Ted and at his urging applied and was hired to provide IT support to all the officers of the university, mainly in the Main Building - the Golden Dome.

In her spare time, Patricia's love of Women's Basketball provided an outlet for all her energy. As Volunteer Lead, Fan Engagement she coordinated dozens of volunteers to assist with game promotions, bus trips and selling season tickets. Her methods of bringing more people into the Joyce Center (the first Women's Basketball game sell-out was in the first ever regular season win over UConn in 2001) are now being considered and modeled by other sports on campus.

Fourteen years ago, Patricia was involved in a terrible accident and lost both of her legs and had other numerous life-threatening injuries. It was a miserable January night, and Patricia was on her way home from the women's game in Morgantown, WV. Patricia's determination showed forth and she was back at work doing what she loved in less than 6 months!

About 5 years ago, Patricia retired from her technology position at ND, but not her volunteer work with Women's Basketball. That she continued until the day her most recent illness put her in the hospital for 21 days.

A Funeral Mass will be offered at the Basilica of the Sacred Heart, Notre Dame, IN at 3:30pm on Monday, August 29, 2022. Most Reverend, Kevin C. Rhoades, Bishop of Ft Wayne/South Bend will preside. Palmer Funeral Home - Hickey Chapel, South Bend, is assisting the family with arrangements.

Donations in lieu of flowers can be sent to The Northeast Neighborhood Food Pantry, 803 Notre Dame Ave, South Bend, IN 46617; or The McAdams Memorial Bench, The Office of Development, University of Notre Dame, Notre Dame, IN 46665.

Online condolences may be left for the family at www.palmerfuneralhomes.com.
LINKS
Palmer Funeral Home - Hickey Chapel
The Patriot-News
http://www.pennlive.com