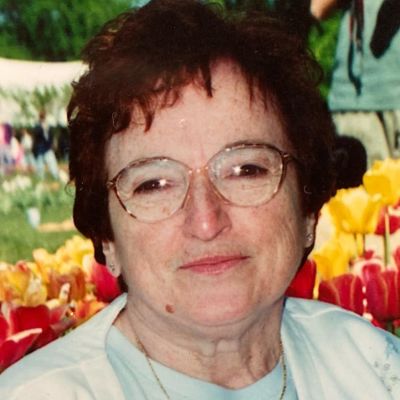 Patricia
E.
Gallant
Did you know Patricia? Please share your stories and photos, and help spread the word about this page!
Patricia Eileen "Pat" Gallant, 89 died on Tuesday, January 12, 2021 at the Valley Terrace in White River Jct., VT.

She was born January 6, 1932 in Hanover, NH the daughter of Charles B. and Ann (Connolly) Aher. Pat lived and attended school in Hartford, VT where she graduated from Hartford High School in 1950. While in high school she met and later married Gerald "Gary" Cross in September 1950.

She started work early in life, in the family businesses of the Hartford Diner, and Aher Brother's Grocery as needed. Pat and Gary purchased a large farm in South Royalton in 1961 and became very involved in the East Barnard Grange. Much time was spent making a home, farm and land improvements. Other activities were maple sugaring, haying, raising a family with parents next door and snowmobiling. The "farm" was a favorite weekend spot for many neighbors, family and friends. Pat worked at the local grocery store in South Royalton and became a well-liked newcomer, she was also active in the School Parent Teacher Assoc.

Vacations, despite it being difficult to leave farm responsibilities, were occasional visits to Patricia's parents at their snowbird location in Florida and included a Disney trip. Wells Beach, Maine was a summer favorite destination along with visiting the Cross family in the Hyde Park, VT area as much as possible. Pat loved her mother-in-law, Hazel Cross, dearly.

Pat worked most of her career in banking, including the loan department at the First National Bank in White River Jct., and was instrumental in the role of Vice President in starting the Hanover Bank & Trust Company in Hanover, NH and subsequently LeBank in West Lebanon, NH. She was a master of doing "math in her head" and amazed many by her efficient calculations and business mind. As a working mother, she took college courses as an adult in hopes of getting an accounting degree. Later, she worked for Moulton Construction and Bridgeman's Furniture. In 1987 she married Raymond Gallant. Together they started Gallant Trucking in Hudson, NH which they ran for many years.

As a retirement endeavor, she and Ray purchased a home in Canada on a beautiful river near a lake that became a favorite vacation spot for many friends and family members. They were very active in snowmobiling, four-wheeling, boating, fishing, and enjoying the water. She was affectionately known to many as: "Grandma Canada".

Due to health concerns, they returned to Auburn, NH in 1997. Pat was an Elliot Hospital Associate who voluntarily did the gift shop's books. She loved working there and will be missed by many. Ray later died in 2000. As a widow, "Patty", returned to her "roots" in the Hartford/Wilder, VT area, and later moved to Quail Hollow in West Lebanon, NH. Recently, she had enjoyed reconnecting with old friends and family and was very active in attending local sports games, family gatherings, and ladies' lunches (pre-Covid). Unfortunately, she recently received a cancer diagnosis that took her sooner than expected.

Through the years, Pat was a member of St. Anthony's Catholic Church in White River Jct. and St. Matthew's Church in South Royalton. She was also very active in the Catholic Daughters of America and held state level positions, including that of State Regent.

She was a lover of life and people. She was always happy, smiling and would do anything for anyone. She had great sewing skills and was the family seamstress, often hemming up pants, sewing on a button or making dress alternations. She loved to crochet and anyone close to her has a special homemade blanket or has an individually designed towel hanging on their stove or refrigerator.

She is survived by her daughter, Marie (Cross) Ostoyich and her husband, Tom; a son, James Cross; four grandchildren, Nicole (Ostoyich) Schaffer and her husband, Anthony, Patrick Ostoyich, Travis Cross and Lee Cross and his wife, Amanda; three great granddaughters, Alessia Schaffer, Natalee Cross and Reagan Cross; a special sister-in-law, Teresa (Aher) Shippee who was Pat's best friend; three step-daughters, Susan (Gallant) Pelton, Gail Gallant and Laurie (Gallant) Beaumont and her husband, Kurt; two step-grandchildren, Kelly (Pelton) Fedirko and her husband, Tony and Jonathan Beaumont and a step-great grandson, Parker Gates. She was also a well-loved, "Auntie" and will be sorely missed by numerous nieces, nephews, cousins and dear friends from two nations.

She was predeceased by her parents; her husband, Raymond Gallant; a sister, Elizabeth "Betty"(Aher) Martin; a brother, Walter "Pete" Aher; a daughter-in-law, Penny Cross and a step-son, Daniel Gallant.

The family will be scheduling a Celebration of Life and burial in the spring/summer of 2021 due to Covid precautions. A private message of sympathy for the family can be shared at www.boardwayandcilley.com. Arrangements are under the direction of the Boardway & Cilley Funeral Home in Chelsea, VT.
LINKS
Boardway & Cilley Funeral Home

Valley News of Lebanon
http://vnews.com
Memories
Looks like something went wrong.
Reload the page and try again.