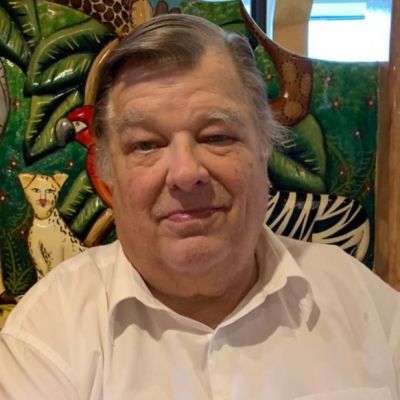 P.
Huber
Hanes III
Help us celebrate P.! Please share your stories and photos, and invite others who remember P..
P. Huber Hanes III was born in Winston-Salem on February 4, 1947, the first of four children of Pleasant Huber Jr and Jane Hopkins Hanes. As his father once quipped about his progenitors and progeny, "We're cut from the same cloth - knitted cotton"! And Huber III's pattern was colorful indeed. Wickedly handsome even as a baby, he grew from modeling Hanes Sleepwear for the family business into a lifelong adventurist.

Huber graduated from Winchendon Boarding School in Massachusetts. He was also a graduate of Guilford College in Greensboro, NC and Northern Arizona University where he studied political science.

A BBQ PitMaster par excellence, he moved to Germany, converted a WWII ambulance into a mobile bbq station, imported containers full of NC hickory chips, and built a devoted clientele by parking upwind from US Army bases and letting the wafting smoke do the rest. Throughout his life, whenever a church, a fire department or a friend needed help with a fundraiser, Huber would volunteer his labor & crank up his smoker to prepare a delightful feast. His generosity was as big as his appetite for life.

Huber spent 20+ years as a deputy Sheriff in Forsyth County NC where he was awarded a medal for his quick, decisive action in an especially dangerous case. He always declared that he had a "calling" in the early stages of his life to enter law enforcement to save and protect mankind. He preferred the company of his fellow officers to just about anyone except his dog Daffy and the true love of his life Susan, with whom he spent his last decade, happily commuting between his place in Wilmington NC, and the log home he built in Ashe County on the family farm. Blessed with an uncanny mechanical acuity, Huber built trucks, collected and restored antique cars (once restored a Mercedes belonging to the Queen of the Netherlands) and particularly adored tinkering with his model trains, having completed an entire German city layout. A quick study, he spoke Spanish fluently from his years with the Border Patrol and could segu? into robust German without missing a beat. And his good ear for language made him a natural and mesmerizing storyteller who always hit the crescendo or punchline with a bang and a booming laugh, to the great delight of his listeners. A maverick who could finagle anything, tales of Huber's exploits are legion, like going to Argentina in the 70's and managing to import a Mercedes back to NC without an export permit. Did it contain Eva Peron's lipstick? Probably. Or while body guarding CEO's in Iran, he eats the eye of a lamb when offered. What better way to help his boss get the desired contract?

Huber was a Force of Nature and the very best kind of southern character. He lit up every room he entered with his enthusiasm and joie de vivre and his innate affability and ease meant he could make common cause and conversation with anyone anywhere. His colossal persona, his animating spirit of laughter and love, will be terribly missed and remembered forever by everyone lucky enough to have known Pleasant Huber Hanes III.

He is survived by his wife Susan, his sisters Jane Hanes Lambeth (Carter) and Helen Hanes Welsh, by his brother Russell Hanes (Jeanie), by his adored stepchildren Kevin Belknap (Aimee); Kimberly Corsi (Stephen), by his two grandchildren Ethan and Ember Corsi, by his nephew MacCrae Morton (Mamie) and niece Helen Wells (Steve), his three nieces Katherine, Molly and Lizzie Hanes, his nieces Jane and Emily Welsh and his nephew Christopher Welsh.

A memorial service will be held at Ashelawn Memorial Chapel on Friday, August 20, 2021 at 2:00 pm.

An additional graveside service will be held at the P.H. Hanes plot in Salem Cemetery and will be announced at a later date.

Words of comfort and remembrance may be viewed or sent to the family through our website at www.ashelawn.com.

Ashelawn Memorial Chapel & Gardens in Jefferson, NC was entrusted with Mr. Hanes' arrangements. The graveside service in Winston Salem will be under the direction of Salem Funeral Service.
LINKS

Ashelawn Memorial Chapel & Gardens
Meadville Tribune
http://www.metromead.com